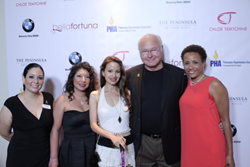 Silver Spring, Md. (PRWEB) September 18, 2015
The "Toast to the Emmys Celebrating Diversity" event, hosted by Anita Thompson, CEO of Bellafortuna Entertainment, and sponsored by BMW and Monster, honored the Emmys diverse 2015 nominees and raised Hollywood friends for the Pulmonary Hypertension Association.
Pulmonary Hypertension (PH) is high blood pressure in the arteries of the lungs that can lead to death from right heart failure. Incurable and progressive, PH is often misdiagnosed as asthma or other less life-threatening diseases. Without treatment, the average survival rate is 2.8 years after diagnosis.
YouTube sensation Chloe Temtchine, a PH patient, posed on the red carpet with a group from PHA before her performance at the soirée. Temtchine (center) is joined by PHA California Development Manager Christine Gaxiola, PH patient and PHA Ambassador Monica Penaranda (left) and PHA Executive Vice President Carl Hicks and VP of Marketing Kelly Williams (right).