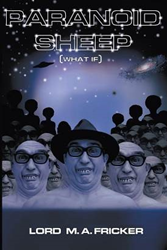 "This introspective novel is not only funny, but asks some serious questions about mankind and our origin." - Robert Fletcher, CEO of Strategic Book Publishing and Rights Agency
(PRWEB) September 23, 2015
In the highly anticipated sequel to "Programmed Sheep: Do You Control Your Mind or Does Somebody Else Control It for You?" author Lord M. A. Fricker continues his rant against the establishment. But now he also has reason to believe aliens are working with the governments to bring in a "New World Order," and to do this they will try and cut the population of Earth by culling 80 percent of the Sheeple in the next few years.
'"To have a New World Order, you first have to get rid of the old one," he says. "We need to wake up to what's going on and stop them from achieving their goal.'"
This humorous new book "Paranoid Sheep (What if)" tells the story of the author's incredible journey of discovery, in which he has sexual encounters with aliens, makes inconceivable predictions, and discovers amazing conspiracy theories, all with the help of Alf, "the voice in his head."
See what civilization has learnt (or not learnt) from ancient peoples, prophecies, war, and religion, all wrapped up in this unique story brimming with adult humor, rage, anarchy, and ultimately some hope. Readers will also discover why June 15 should be a life-changing annual event.
Says the author, "I reckon it's time for you sheeple to open your minds to an alternative way of thinking. What if all is not as it seems?"
"This introspective novel is not only funny, but asks some serious questions about mankind and our origin. We are most pleased to announce its release," said Robert Fletcher, CEO of Strategic Book Publishing and Rights Agency.
Watch the video at:
https://www.youtube.com/watch?v=-mYBLODpUpE&feature=youtu.be
About the Author: Lord M. A. Fricker lives in a part of England that has hosted Celtic rituals and UFO sightings. "Hopefully Paranoid Sheep will leave readers with a different prospective to life and make them question everything. What if you could change the world?"
Author's website: http://www.MAFRICKER.COM
PARANOID SHEEP (WHAT IF) (ISBN: 978-1-68181-223-6) is now available for $22.50 and can be ordered through the publisher's website:
http://sbpra.com/MAFricker or at Amazon.com or Barnesandnoble.com.
WHOLESALERS: This book is distributed by Ingram Books and other wholesale distributors. Contact your representative with the ISBN for purchase. Wholesale purchase for retailers, universities, libraries, and other organizations is also available through the publisher; please email bookorder(at)sbpra.net.