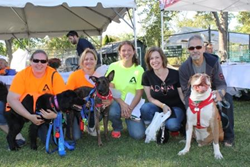 Westchester County, New York (PRWEB) September 22, 2015
More than $100,000 was raised to benefit Adopt-A-Dog, the Armonk, NY-based nonprofit rescue/adoption organization for dogs at its 28th Annual "Puttin' on the Dog" Festival on Sept. 20. Funds raised will go toward Adopt-A-Dog's mission to save, socialize and secure loving homes for unwanted or abandoned dogs.
Billed as the largest event of its kind between New York and Boston, "Puttin' on the Dog" drew more than 4,000 animal lovers and their four-legged friends from throughout the Tri-State area, with applications pending for 17 dogs destined to find permanent and loving homes.
The day-long event also featured 50 vendors, a dozen dog competitions and live music performed by CT R&B band Billy and the Showmen.
"To think that we helped so many animals at our shelter find safe and permanent homes is a testament to the thousands of wonderfully generous animal-lovers in the Tri-State area," said Kristen Rice, executive director, Adopt-A-Dog. "We are so grateful for the support of sponsors and the surrounding community."
Pet Pantry Warehouse was the Presenting Sponsor. Premiere sponsors included Reckson, a Division of SL Green and Cornell University Veterinary Specialists.
About Adopt-A-Dog
Adopt-A-Dog (http://www.adoptadog.org) is a 501(c)(3) non-profit animal shelter, rescue and adoption center. Since its inception in 1981, Adopt-A-Dog has aided in the placement of more than 13,500 companion animals in Westchester County, NY, Fairfield County, CT and throughout the Northeast. Known for its dedicated staff of animal advocates and innovative adoption procedures, Adopt-A-Dog aims to reform the animal welfare industry and educate future pet owners to promote lifetime ownership and care. Adopt-A-Dog has been providing a broad range of programs and services including: sheltering, adoption, spay and neuter programs, humane education and animal rehabilitation programs. The year 2015 marks the organization's 28th anniversary of "Puttin' on the Dog," its annual fundraising and adoption event, which ensures the continuation of fulfilling its mission: To Save, Socialize and Secure Loving Homes for Unwanted or Abandoned Dogs & Cats. Adopt-A-Dog's headquarters and shelter is located in Armonk, NY.