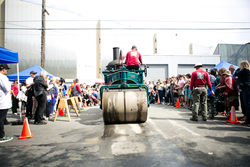 Live printmaking using a 7-ton 1928 Buffalo-Springfield Steamroller and Rhode Island Street (yes, the street itself) as a giant printing press.
San Francisco, California (PRWEB) September 19, 2015
The San Francisco Center for the Book's 12th Annual Roadworks Steamroller Printing Festival is a public printmaking and book arts street fair that includes hands-on printmaking and book arts activities, demonstrations, printmakers, bookarts and crafts vendors, live steamroller printing and more.
The Roadworks Steamroller Printing Festival is on Sunday, September 27, 2015 from 11:00 AM to 4:00 PM on Rhode Island Street between 16th and 17th Streets in San Francisco. The Roadworks Steamroller Printing Festival has become a popular tradition in the Do.Re.Mi (Dogpatch-Potrero-Hill-Mission) Design and Art District of San Francisco, that attracts arts and crafts, printmaking and book art enthusiasts of all ages. There is no charge for admission.
Using a 1924 seven-ton Buffalo Springfield steamroller provided by Roots of Motive Power as a giant cylinder and the surface of Rhode Island Street itself as the bed of a giant printing press, featured artists, printers and steam enthusiasts create large-scale prints from three foot by three foot squares of hand-carved battleship linoleum. Featured artists selected to create linocuts for the 2015 event are Casey Gardner, Ryan Vicente (San Francisco Victorian House Mash-Up), Laurel Prieto, Eric Rewitzer from 3 Fish Studio (Monsters from Godzilla Destroying Famous Landmarks in San Francisco series), Sara Burgess, and Rik Olson, the only printer able to claim the title of 12-time Roadworks Featured Artist. Freshly minted Roadworks prints as well as Roadworks archive prints and books from the Center's Small Plates Imprint are sold at the event as a fundraising activity for San Francisco Center for the Book.
The list of printmakers, book artists, crafters, art supply vendors and arts organizations, attending the 12th annual festival includes: M&H Type, Savior Faire, Dandy Lion Press, Dependable Letterpress, Paperflirt, Pickypockets Press, Melissa West, Painted Tongue Press, Raes of Sun, Recover Your Thoughts, A.K. Walker Art, 8 Paw Press, Bell'occhio, Boarding All Rows, Coffee N Cream Press, Copilot Press, Drive By Press, Girl Chewing Gum, Graphics Arts Workshop, Gutwrench Press, Mixolydian Editions, Neon Sprinkles Studio, Noble Impressions, Reclaimed Printmaking, Stephanie Martin Etchings, Rika Laser/Asuka Ohsawa, Dead Duck Press, Fly By Night Girls, Rjit Phiosuwan Art, Papa November, Twist and Dip, ArtSpan, Litquake, Do.Re.Mi Design & Arts District, Letterform Archive, Jeremiah Flynn Tintype Photography and many others.
Festival attendees can participate in hands-on traditional book arts activities, including using antique printing presses to create letterpress prints and binding books one stitch at a time, by hand. Bell'occhio will offer hands-on Calligraphy demonstrations. Red Handed Stamps & Neenah's S.O.S. (Stamp (your) Own Stationery) Creation Station is a place where participants can design hand stamped stationary. The Roadworks Letterpress Depot is the location within the event to try 3-color hands-on letterpress printing activities lead by Maria Ayala. The Speedball Creativity Zone features soft block carving and printing for adults and kids of all ages. There is no charge to participate in hands-on activities at the festival.
In the Print Studio, live Vandercooking and Bookbinding hands-on activities lead by San Francisco Center for the Book's book arts instructors will take place from 11:00 AM until 3:00 PM.
During the event, the Be Enveloped exhibition, an exhibition about envelopes will be on display in the San Francisco Center for the Book's main gallery.
Sponsors of the 12th annual event include Whole Foods Market | Potrero Hill, Kevita, Speedball, Neenah, Blick Art Supply | Market Street, Flax Art Materials & Supply, Set in Motion Press, and Red Handed Rubber Stamps.
San Francisco Center for the Book] is a 501(c)(3) non-profit organization.San Francisco Center for the Book is a center of inspiration for the book arts world featuring the art & craft of letterpress printing, bookbinding and artists bookmaking. San Francisco Center for the Book is dedicated to the art of the Book. San Francisco Center for the Book offers over 400 workshops annually. In addition to workshops, San Francisco Center for the Book also presents exhibitions and events, hosts special visits, hands-on demonstrations, and much more. Founded in 1996, San Francisco Center for the Book will celebrate its 20-Year Anniversary in 2016. Information about San Francisco for the Book and the Roadworks Steamroller Printing Festival can be found at http://www.sfcb.org.
EVENT: 12th Annual Roadworks Steamroller Printing Festival
DATE: Sunday, September 27, 2015
TIME: 11:00 AM to 4:00 PM
LOCATION: Rhode Island Street, between 16th and 17th Street, San Francisco, California
FEE: No charge for admission
PRODUCED BY: San Francisco Center for the Book