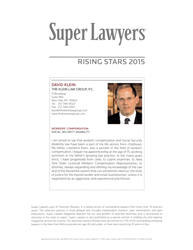 New York, New York (PRWEB) September 20, 2015
http://www.thekleinlawgroup.com
David Klein has been voted a Super Lawyer for 2015 for his advocacy on behalf of accident victims in New York. As a founding partner of The Klein Law Group, Mr. Klein focuses on Workers' Compensation cases, and the Social Security Disability, Personal Injury, and Wages & Hours issues that are often associated with workplace accidents.
Mr. Klein also devotes much of his time to teaching the basics of workers' compensation, social security disability, and personal injury for numerous unions and Teamsters, as well as The National Day Laborers Network and The Workers' Justice Project. In addition, he has also taught for the Chinese Consolidated Benevolent Association, at the New York City & Vicinity Carpenters Latino Association, at the Chinese Community Center in Manhattan, at the Flushing Workers Center and Chinese Staff & Workers Association.
David has also had great success representing small business owners who have been penalized by the State of New York Workers' Compensation Board for having neglected to buy workers' compensation insurance. Through appeals and negotiation, he has saved some clients more than $100,000.00 in penalties.
David Klein is proud to have been recognized again by Super Lawyers for his passionate advocacy of the working men and women of New York whose lives are altered by the trauma of an accident or disability.