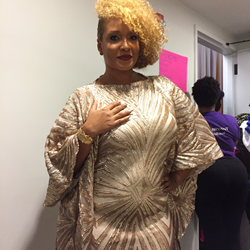 New York, NY (PRWEB) September 22, 2015
In conjunction with this year's NYFW, Avianne Jewelers collaborated with Plus Night Out, an exclusive fashion exhibition celebrating plus sized women by Jovanna Reyes'. The show was held on Thursday, September 17, 2015, 7 pm at New York's LoftW83rd multi-function cultural center in the Upper West Side, where Latina Magazine's Director of Content, Shirley Velasquez acted as Mistress of Ceremony to over 250 VIP attendees.
The spring 2016 Collections were adorned with couture pieces designed and crafted by the master jewelers at Avianne & Co.. Designers showcasing their designs this year's NYFW PNO included; QRISTYL FRAZIER DESIGNS, RUE21 +, SERITA BELL, TRU DIVA, WILLIAM H. DESIGNS AND JILL ALEXANDER DESIGNERS.
Through a collaborative partnership with Latina, IPM Models, and True Modeling Agency, #PNO showcased Curvy Latin and African American Models in the showcase and provide real-time coverage through http://www.Latina.com and http://www.PlusNightOut.com. PNO's Media partner, Latina Magazine is joined by Elite #PNO Sponsor Rue21+, and Sponsors: Curls, Inc., SeanJohn, The IPM and True Modeling Agencies, Tramps Hosiery, SLAP (Satin Lined Caps) Avianne & Co. Jewelers, Stickwitit Apparel, the BEGlammed app, Stylaga.com and Jax Coconut Water to produce the event.
ABOUT AVIANNE & CO
Established in 1999, the team at Avianne & Co. has created one of the largest jewelry stores on the East Coast. After two decades of hard work and dedication, the master jewelers have designed and built an exquisite gallery of the finest diamond jewelry located in the heart of New York City's renowned Diamond District. With a well-established reputation for accepting any design challenge and custom jewelry commission, the team has become the exclusive jewelers to artists, athletes, and celebrity clientele worldwide. For more information, visit http://www.avianneandco.com.