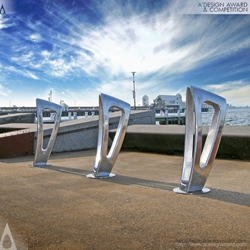 Como, Italy (PRWEB) September 19, 2015
A' Design Award and Competition is pleased to announce that the design project The Zephyr by Barrier Group has been announced as a winner of the Platinum A' Design Award in Street Furniture Design Competition Category.
Regarding The Zephyr
Barrier Group, the lead designer of the awarded Street Furniture project The Zephyr explained "The Zephyr is a multifunctional bicycle storage bollard. As pictured here on the waterfront in Geelong (Australia), the Zephyr is a sculptured bollard, a classical design element. It brings Art to the environment where the enjoyment of the outdoors can be appreciated, either alone, or with friends. So, use it to park your bicycle, enjoy the view, enjoy the company of others and enjoy the style and sheer sumptuousness of the Zephyr." Learn more at: https://competition.adesignaward.com/design.php?ID=35100
The Platinum A' Design Award
The Platinum A' Design Award is a prestigious award given to top 1% percentile designs that demonstrates an exemplary level of quality in design. Entries to the A' Design Award and Competition are evaluated by an international jury panel of expert designers, experienced academics as well as prominent press members. Each entry is peer reviewed and anonymously voted following strict evaluation guidelines and predetermined voting criteria. Laureates of the A' Design Award and Competition are provided a series of PR, publicity and marketing tools such as inclusion in Design Mega Store to promote awarded entries further as well as to celebrate the status of winning the accolades. Award winners also receive the 3D printed metal design award trophy, hardcover annual of best designs, the design excellence certificate as well as an exclusive invitation to gala-night and exhibition.
About International A' Design Award & Competition
The A' Design Award & Competition was established to recognize and promote the very best designs in all countries and in all disciplines to create a global appreciation and awareness for good design practices and principles. The ultimate aim of the A' Design Competition is to push designers, artists and architects worldwide to create superior products and projects that benefit and advance society. Learn more about the A' International Design Awards at http://www.designaward.com