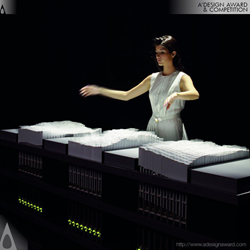 Como, Italy (PRWEB) September 19, 2015
A' Design Award and Competition is pleased to inform that the design project Transform by Hiroshi Ishii has been announced as a winner of the Platinum A' Design Award in Arts, Crafts and Ready-Made Design Competition Category.
Details of Transform
Hiroshi Ishii, the creator of the award winning Art work Transform said "'Transform' is a shape changing furniture that reacts to human presence and aims to inspire viewers through its unexpected transformations and aesthetics. It is a furniture that explores the juxtapositions of static and dynamic and soft and hard. Transform embodies a vision of of human interaction with dynamic, computationally reconfigurable and transformable shape-changing materials (Radical Atoms). Transform was first exhibited at Lexus Design Amazing 2014 Milan in April 2014." To learn more visit: https://competition.adesignaward.com/design.php?ID=37260
Project Members for Transform
Transform was imagined by Hiroshi Ishii, Daniel Leithinger, Sean Follmer, Amit Zoran and Philipp Schoessler.
The Platinum A' Design Award
The Platinum A' Design Award is a prestigious award given to top 1% percentile designs that has attained an exemplary level of perfection in design. Entries to the A' Design Award & Competition are judged by an international influential expert jury panel composed of established designers, eminent scholars and prominent press members. Laureates of the A' Design Award & Competition are given the A' Design Prize to celebrate the success of winning the competition. The A' Design Prize includes a series of pr and publicity tools to help the award winning designers get the publicity they deserve.
About A' Design Award and Competition
International and annually organized, A' Design Award and Competition aims to highlight best designs, design concepts and design oriented products worldwide in order to promote good design practices and principles. The ultimate aim of the A' Design Accolades is to push designers and brands to come up with superior products for a better future. Learn more at: http://www.whatisadesignaward.com