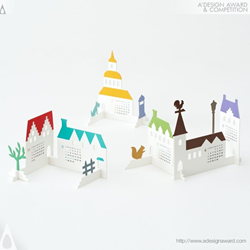 Como, Italy (PRWEB) September 19, 2015
A' Design Award and Competition is pleased to announce that the design project Calendar 2015 "Town" by Katsumi Tamura has been announced as a winner of the Platinum A' Design Award in Graphics and Visual Communication Design Competition Category.
Insights on Calendar 2015 "Town"
Katsumi Tamura, the creator of the awarded Graphic work Calendar 2015 "Town" said "Town is a paper craft kit with parts that can be freely assembled into a calendar. Put together buildings in different forms and enjoy creating your very own little town. Quality designs have the power to modify space and transform the minds of its users. They offer comfort of seeing, holding and using. They are imbued with lightness and an element of surprise, enriching space. Our original products are designed using the concept of Life with Design." To learn more visit: https://competition.adesignaward.com/design.php?ID=35357
Team Members for Calendar 2015 "Town"
Calendar 2015 "Town" was designed by Art Director: Katsumi Tamura, Designer: Takahiro Sugawara and Copywriter: Toshiyuki Nagamatsu
The Platinum A' Design Award
The Platinum A' Design Award is a prestigious award given to top 1% percentile designs that has carried out an exemplary level of greatness in design. Entries to the A' Design Competition are peer reviewed and anonymously voted by an expert jury panel of design scholars, media members as well as professionals. Laureates of the A' Design Award & Competition are given the A' Design Prize which includes a series of PR and publicity tools such as participation in Buy Sell Design network to promote award winning works.
About A' Design Award & Competition
The International A' Design Award and Competition was established to recognize and promote excellent design work in order to create a global understanding and appreciation for good design practices and principles. The A' Design Awards aims to push designers, architects, brands and product manufacturers worldwide to come up with superior products and projects that benefit society. Learn more about the A' Design Award and Competition at http://www.designaward.com