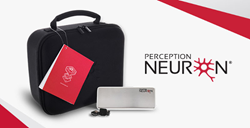 This is an excellent opportunity for us to introduce the product to a whole new set of influential media and industry leaders.
San Francisco, California (PRWEB) September 21, 2015
Noitom, the company that is putting affordable motion capture technology in the hands of gamers, VFX professionals, sports pros, doctors and researchers with their Perception Neuron system, will be at TechCrunch Disrupt 2015 from September 21-23 for the annual startup launch event that welcomes entrepreneurs, investors and tech fans for three days of onstage interviews, demos, discussions, a 24-hour hackathon and a host of special events and parties taking place at Pier 70 in San Francisco.
Perception Neuron returns to the Bay Area for the third time this year after their last appearances at GDC San Francisco in March and SVVR in May, and where they were able to meet with fans of their revolutionary product that's been creating a buzz around the virtual reality world since its debut last year on Kickstarter. This time, the Perception Neuron team will be taking part in TechCrunch Disrupt, where emerging tech companies have the opportunity to engage with potential investors and members of the media.
Perception Neuron will be in the exhibition area, where they will be discussing their full-body, wireless motion capture technology and introducing a new virtual camera component.
"The response to Perception Neuron since our Kickstarter launch last September has been nothing less than remarkable," says Tristan Dai, CTO of Noitom and developer of Perception Neuron. "We couldn't be happier with the response we have received from professionals throughout the industry who want to work with Perception Neuron. Coming to an event like TechCrunch Disrupt really solidifies our place in the emerging technology field."
One of the new concepts Perception Neuron is excited to share with their users, industry partners and media is their virtual camera experience which allows users to see an actor wearing a full body Perception Neuron setup through a tablet in a virtual environment in real-time. The virtual camera is an early development concept for a product slated for release in Q3 of 2016.
"This is a very exciting time for us," says Roch Nakajima, Americas Marketing Director for Noitom Ltd. "Now that our product is out there and we get to see the different ways in which people are using the technology, it gives us more to share with the industry professionals who attend events like TechCrunch Disrupt. This is an excellent opportunity for us to introduce the product to a whole new set of influential media and industry leaders."
Perception Neuron is the world's only adaptive and affordable full-body, wireless motion capture system and one of the most affordable of its kind on the market. Designed to deliver professional results right out of the box, Perception Neuron can be used for a variety of applications from VFX and gaming, to sports, medicine and simulations.
Perception Neuron is currently available for pre-order on their online store. For price packages, information, or to make a purchase, please visit, neuronmocap.com.
TechCrunch Disrupt 2015 takes place September 21-23 at Pier 70, 8 22nd Street, San Francisco. Conference hours are from 9 a.m. to 6 p.m. each day.
Events during the conference include Startup Battlefield and Hackathon as well as daily speakers. For more information about TechCrunch Disrupt, please visit http://techcrunch.com/event-info/disrupt-sf-2015/.
To learn more about Perception Neuron, or to place an order, visit neuronmocap.com.
Founded in 2011, Noitom Ltd. works with a team of dedicated engineers who develop world-class motion capture technology for consumer and industrial markets through the integration of MEMS sensors, pattern recognition, human kinetics and wireless transmission. Noitom is an international leader in innovative technology for use in animation, film, medical applications, robotics and gaming. Noitom is headquartered in Beijing with affiliate offices in Shenzhen. For further information about Noitom and its services, please visit http://www.noitom.com. For general inquiries, please email info(at)noitom(dot)com.