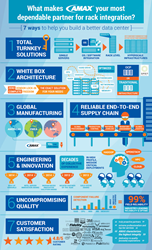 Fremont, CA (PRWEB) September 22, 2015
AMAX, a trusted global leader in application-tailored Data Center, HPC and OEM Solutions offers a full-service, customizable rack integration services for building out the hardware infrastructure solutions your data center depends on, released 7 ways to help enterprise customers build a better data center. Whether you need integration for your custom-branded rack-level solutions, or you need large-scale multi-rack integration to expand your data center, AMAX can customize our rack integration services to meet your specific requirements, delivered on time and exceeding expectations.
This just released AMAX infographic should give you a good understanding of the 7 ways that AMAX can help you build a better data center, includes: Total Turnkey Solutions, White Box Architecture, Global Manufacturing, Reliable End-to-End Supply Chain, Engineering & Innovation, Uncompromising Quality, Customer Satisfaction. Learn how to help your company and your team to build a better data center, contact AMAX and get more information.
AMAX is a trusted global leader in application-tailored Data Center, HPC and OEM Solutions and has been recognized for several industry awards including most recently, the 2014 Best of VMWorld and Intel Server Innovation Award for its CloudMax Converged Cloud Infrastructure solution. Founded in 1979 and headquartered in Silicon Valley with additional locations in China and Ireland to offer global manufacturing and logistics, AMAX is a full service whitebox manufacturer specializing in innovative server-to-rack level solutions developed for Datacenter, HPC, Cloud and Big Data applications. AMAX's extensive menu of services includes best-in-class engineering & architectural design, ISO-certified manufacturing, customizable test automation, supply chain management, as well as global logistics, certification & technical support. As an Official OCP Solutions Provider, AMAX can build its solutions using both standard whitebox and OCP architecture.
To learn more, please visit http://www.amax.com/