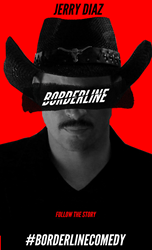 Los Angeles California (PRWEB) September 22, 2015
After the mysterious disappearance of a famed drug kingpin Hector Diaz, his son, Jerry steps in to take over the family business. There's just one problem—Jerry has Borderline Personality Disorder. Borderline follows the misadventures of Diaz and crew as he works to bring the family business into the digital age. With the help of social media Diaz plans to brand the cartel for a new generation. Leading his gang of thugs, hit-men, and drug smugglers on the often ill-fated, but funny, mission to secure, and expand his cocaine empire across both the Mexican and North American boarders, Borderline provides many plot twists and shenanigans along the way.
"I am really excited for audiences to discover Borderline, it's a crazy mash-up of serious important topics with a comedic twist, it's satire, it's a little raunchy and definitely politically incorrect. If Breaking Bad and The Office had a bab,y it's off spring would be Borderline. Although it's a comedy, a lot of the series visually resembles a dramatic series. Borderline is the ultimate comedic oxy-moron," says series creator and star Geo Santini.
Santini created a fan base with his debut film "Hotel California" and quickly capitalized on it through his comedy channel "Wize Guys", series like "Geo's Pizza" became an audience's favorite from the get go. "I wanted to do something at a bigger scale, and I wanted to target this generation of Millennials with a humor that's unlike anything else out there", expressed the writer-director.
Non-stop hi-jinks ensues as Jerry stakes his claim, combating rival cartels and taking on the DEA in his quest to become the new drug kingpin. Borderline gives a naughty satirical spin on a host of relevant hot button topics including the war on drugs, border security and the adoption of African babies.
Featuring a diverse and multicultural cast, Santini is aided by comedians Wilmer Calderon and Erick Chavarria as Diaz's bumbling henchmen Diego and Chu Chu, with actor Eric Curtis Johnson rounding out the main cast as the dim witted DEA Agent Bob Dil.
Leading up to, and after the premiere of Borderline, Wizeguys Comedy, the production company behind Borderline will release a series of tie-in, interactive social media campaigns and promotions on multiple platforms to keep audiences engaged and up to date with Jerry Diaz and crew.
All of the episodes of the six-part miniseries premiere today on Amazon Instant Video and Prime, and will expand to other platforms in 2016. The first episode of Borderline will be available for free streaming to everyone on amazon.com
Borderline was written and created by Geo Santini, produced by Maurice Fadida and executive produced by Daniel Bort.
About WizeGuys Comedy:
Like the odd new kids on the block, Wizeguys Comedy are making waves with their colorful webisodes with a style that teeters between, SNL and a good old fashion kick in the shin. Each original short, whether animated or scripted it will leave you soiling yours with infectious humor and satire. Their outlandish comedic style has the YouTube community returning to their channel to indulge in their favorite webisodes like "Geo's Pizza" (Season 1) and "Cocks," the femme version of the classic Hooter's joint, that is delightfully exaggerated to have you lingering for more from none other than the Wizeguys of Comedy. Wizeguys Comedy was founded by Geo Santini and Senior VP of Operations Todd Chamberlain in 2012.