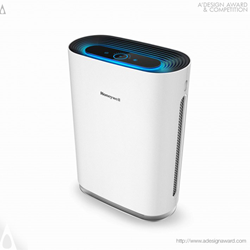 Como, Italy (PRWEB) September 19, 2015
A' Design Award and Competition is pleased to announce that the design project Air touch by LKK Innovation Design Group has been announced as a winner of the Platinum A' Design Award in Home Appliances Design Competition Category.
Details of Air touch
LKK Innovation Design Group, the designer of the award winning Appliance design Air touch said "The Air touch users are young white-collars, who wish to use a simple interface and touch sensitive buttons for smooth operation. The operation panel lights serve as a decorative element but also display the current air quality. The design was created to be extremely simple and easy to use while simultaneously meeting functional and technical requirements." To learn more visit: https://competition.adesignaward.com/design.php?ID=38746
Project Members for Air touch
Air touch was imagined by Manufacturer, Honeywell China Co Ltd, Jeff Gao Steven Li Peter Lau, , Design, Shanghai LKK Innovation Design Group and Lianzhen Zhaoqingwei Zhujing
Platinum A' Design Award
Platinum A' Design Award is a highly prestigious design award given to top 1% percentile designs that receive the highest votes from the expert jury panel which is composed of prominent scholars, experienced design professionals and internationally influential press members. Entries are peer-reviewed and carefully judged in an anonymous fashion to determine the winners. Laureates of the A' Design Award & Competition are entitled to receive the A' Design Prize which includes a series of public relations and publicity tools to promote winners in addition to yearbook, certificate, award trophy, design exhibition and gala-night participation.
About A' Design Award and Competitions
A' Design Award and Competition is the worlds' leading design accolade that accept entries of extraordinary, original and innovative design concepts, products and services for awards consideration. A' Design Awards are organized internationally in a wide-array of creative categories in order to highlight the best designs from across the globe. The ultimate aim of the International A' Design Competition is to push designers, product manufacturers and brands worldwide to come up with superior products and services that benefit society. Learn more about the A' Design Competition at http://www.whatisadesignaward.com