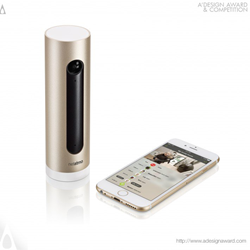 Como, Italy (PRWEB) September 19, 2015
A' Design Award and Competition is pleased to announce that the design project Netatmo Welcome by Netatmo has been announced as a winner of the Platinum A' Design Award in Home Appliances Design Competition Category.
Details of Netatmo Welcome
Netatmo, the designer of the awarded Appliance work Netatmo Welcome explained "Welcome's design is elegant and non-intrusive, unlike traditional home security cameras. Welcome's sophisticated technology is hidden in a slim cylinder-shaped aluminum body. Welcome is buttonfree, therefore all interaction happens in the companion App. A fine black plastic piece blends with the camera's lense and covers elegantly the infrared LED and microphone. The pure shape and the warm gold tone make Welcome harmonious. Welcome highly respects the user's privacy which is also reflected in its design: Welcome blends into each home interior, it blends into the user's life." Learn more at: https://competition.adesignaward.com/design.php?ID=38816
Team Members for Netatmo Welcome
Netatmo Welcome was imagined by Alexandre Moronnoz
The Platinum A' Design Award
The Platinum A' Design Award is a prestigious design award given to top 1% percentile designs that has accomplished an exemplary level of excellence in design. Entries to the A' International Design Award & Competition are peer reviewed and anonymously voted by an expert jury panel composed of prominent designers, experienced scholars and eminent press members. Laureates of the A' Design Award & Competition are given the A' Design Prize which includes a series of PR and publicity tools to celebrate the status of winning the accolades.
About A' Design Award and Competition
A' Design Award and Competitions is the worlds' most international design accolade with participation from two-hundred countries and territories. The A' Design Awards are organized in each and every design, art, architecture and engineering discipline to feature, promote and highlight good designs that create benefits to the society. The ultimate aim of the competition is to create a global awareness for good design practices and principles by featuring great designs. Learn more about the A' Design Competition by visiting: http://www.whatisadesignaward.com