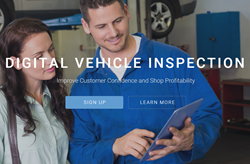 "Once drivers can see the actual photos and videos of the needed repairs, they will generally have a higher level of confidence that the recommended repairs are both necessary, and can be performed by the repair shop"
Poway, CA (PRWEB) October 05, 2015
Utilizing cutting-edge, web-based technology, DVI Boss enables automotive repair shops to complete Digital Vehicle Inspections that provide customers with a complete inspection of their vehicle, including photographs, videos, and technician notes. This Digital Vehicle Inspection application interactively shows the condition of the different components of a vehicle. With DVI Boss, auto repair shops can provide better service to customers and improve profits by not only reducing costs of paper inspections but also technician time.
Once a DVI Boss Inspection is completed by the automotive repair shop, a link to the DVI is sent to the vehicle owner via text message or email. By clicking the link, owners can view the inspection notes, photos and video right on their computer, tablet or smartphone. Chris Boshaw, President of CSB Technologies, suggests that both customers and the repair shop will see the value of this easy-to-use application. He states, "Once drivers can see the actual photos and videos of the needed repairs, they will generally have a higher level of confidence that the recommended repairs are both necessary, and can be performed by the repair shop."
DVI Boss is available as a stand-alone application and does not require any specialized hardware. An automotive repair shop only needs the ability to access the internet to upload photos and/or videos captured on their tablet, smartphone or camera. DVI Boss can also be integrated with a repair shop's existing Shop Management Software and is also fully integrated with Shop Boss Pro, the flagship Shop Management Software application from CSB Technologies.
DVI Boss is an affordable option to increase customer service and satisfaction as well as improved profitability for the shop. A subscription to DVI Boss is priced at just $98.00 per month to the auto repair shop with no long term contract.
About CBS Technologies
CSB Technologies is an innovative force in the Web-based Invoicing and Service Business Management space. We offer several current products with more in development.
While initially focusing on the automotive industry (auto repair shops, auto body shops and motorcycle repair shops), CSB Technologies is expanding our market to reach all types of service businesses including Plumbers, HVAC Service, Pool and Grounds keeping Service and much more.
Our approach to new products and vertical markets is to engage with the current user-base in those markets and design our applications to meet the needs of the users, not the needs of our programmers.