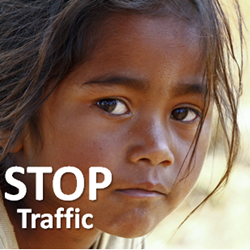 I learned first-hand about modern day slavery in Bolivia where one of the students I met told me about his brother who I am sure was sold into slavery with the other 23,000 slaves in Bolivia.
New York, NY (PRWEB) September 22, 2015
Nicholas Bongiovanni, a senior at The Lawrenceville School and active member of the Greek Orthodox Youth of America, launched a campaign to foster greater awareness of Modern Day Slavery to students, offer them resources to help educate others, and raise money for The Child Rescue Association (http://www.childrescueassociation.org) during yesterday's festivities celebrating the United Nation's International Day of Peace.
Mr. Bongiovanni launched his campaign #StopTraffic and organization as part of the "Youth Summit" event hosted at the Harvard Club on Monday, September 21 by the youth-advocate organization, #Peaceday365. The event was led by Ambassador John W. McDonald who was instrumental in the launch of the International Day of Peace. Ambassador McDonald introduced the youth delegation, attendees around the table and on the conference from 4 to 5 cities. At 3:00PM, UN Youth Envoy Ahmad Alhendawi (http://www.un.org/youthenvoy/about/) greeted Ambassador McDonald to say a few words about the criticality of including our youth in the solutions for major global issues plaguing our planet today and to support the youth delegation.
There are over 35 million estimated individuals in modern day slavery globally today, and, according to the FBI, there are currently an estimated 293,000 American children at risk of being exploited and trafficked for sex. Modern Day Slavery is one of the biggest human rights violations of our time. In fact, it is actually one of the leading organized crimes. It's estimated that this is a $32 Billion---yes Billion dollar business per a recent article by The Guardian.
Even though slavery has been banned across the globe, there are more estimated slaves now than in history. Sadly, many of the goods we buy are unknowingly supporting this trade. While we don't hear about the big brands we buy from employing slaves, companies may be unwittingly sourcing these products from small suppliers globally that are hiring slaves to do their work.
Many of these workers are forced to work grueling hours with little to no pay. Many of them are children, who are even being forced to put their lives at risk. A recent story showed how kids are being used to go down and untangle fish nets and are dying because they get stuck in the nets and end up drowning. Many women and children are being exploited for sex and forced into incredibly abusive situations; situations that many of us can't even envision.
The Child Rescue Association of North America's latest efforts have been to fund-raise for a future rescue mission. In Fall of 2015, Child Rescue is headed to Latin America for an Undercover Rescue Mission where they hope to not only save more children, but also bring more traffickers to justice. Their team of ex-special operations and intelligence personnel will be partnering with local governments to rescue trafficking victims, some even under the age of ten, from sex traffickers who are abusing them right now. Then they'll be placed in aftercare facilities where they will be given the opportunity for a successful future and a happy life. Having been successful in their last mission to South America where ten children were rescued and four traffickers were arrested, they just need to complete their fundraising efforts. With only $15k left to raise, they are three quarters of the way there and Bongiovanni's campaign aims to help them meet their goal.
For more information on http://www.kidsfightslavery.org or the "Stop Traffic" campaign, please email info(at)kidsfightslavery(dot)org and support the campaign by Liking it on Facebook http://www.facebook.com/stoptraffictoday .
###