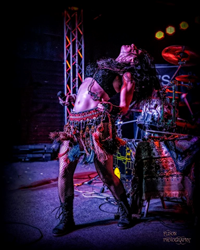 Rolling Stone Magazine named Vajra a "Must-See Act"
New York, NY (PRWEB) September 21, 2015
Vajra's single "Inside the Flame" placed No. 9 this week on the Loudwire Battle Royale Top 10 Rock & Metal Video Countdown and was named by Loudwire "the longest tenured video on the countdown." It "will enjoy one final week of voting before it's retired."
The Countdown highlights the Top 10 Rock + Metal videos of the week as determined by fan votes.
The Alt/prog rockers thanked their fans on their Facebook page and wrote "We ALL showed the world that a little band from NYC with "different" music can be on the GLOBAL RADAR competing with some of the most AMAZING BANDS who have given us so much INSPIRATION and for whom we have so much RESPECT. It is humbling and so very awesome!"
Rolling Stone Magazine named Vajra a "Must-See Act" at the Loudwire Music Festival, and true to form, Vajra delivered a killer set, hypnotizing and mesmerizing their audience.
AXS Magazine named Vajra one of the "Most Underrated Bands."
Their single is currently in rotation at: KGRR/Dubuque, KTED/Casper, KAZY/Cheyenne, KROW/Cody, Radio 106, Rock Rage Radio, KEYJ/Abilene, KJML/Joplin, KFML/Little Falls, KHAD/Upton, KXPZ/Las Cruces, Rocket Online, WECL/Eau Claire, KMZK/Grand Junction, KQDI/Great Falls, WPNT/Villa Rica, in addition to a host of internet radio stations.
The band is currently in the studio working on their follow-up to their debut album 'Pleroma."
For more about Vajra, see: http://www.thevajratemple.com.