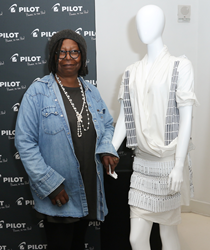 New York City, NY (PRWEB) September 20, 2015
GBK (gbkproductions.com) - the luxury lifestyle gift lounge and special events company, partnered up with Pilot Pen for a luxury gift and style lounge celebrating New York Fashion Week in New York City on September 14th and 15th. Pilot Pen, known for offering superlative writing instruments renowned for quality, performance, cutting-edge technology and consumer satisfaction, was a highlight of the lounge. Whoopi Goldberg was particularly excited and was overheard saying "I love pens and shoes!" as she received her assortment of Pilot Pen's high-performance pens including their FriXion Clicker, MR Animal Collection and Acroball PureWhite. Guests also received an exclusive set of Pilot's Signature Style Stationary.
Beauty products filled the lounge, and the event featured both tried-and-true products as well as a mixture of new and up-and-coming brands. A favorite of the lounge included Presenting Sponsor LifeCell, an all-in-one antiaging treatment formulated to target every aspect of aging skin. Other health and beauty sponsors included: All Beauty Water - a nutrient enhanced skincare drink formulated to help hydrate and nourish your skin from within; Carmex®; Peeks Cosmetics, offering a line of high quality products from lip glosses to eye shadows and more; Flawed, gifted their P.O.P-arazzi Essential Kit; and Grande Lash – MD, gifted products to enhance eyelashes, brows and hair.
On the fashion front, products included: gift certificates from Beyond the Rack, North America's premier online shopping club; Cynthia Gale New York - urban eclectic, modern, art-inspired sterling silver jewelry; Canada Bliss Hats and Accessories - stylish Canadian luxury handmade hats; and handcrafted luxury sneakers from Koio Collective.
Some of the highlights of the lounge included luxury destinations, complements of Belmond La Samanna – gifting a Deluxe Ocean Room with daily breakfast for 3 nights, and Caribbean Living – which offered an all-inclusive trip to the Caribbean at the celebrity's choice of 3 resorts.
Food and beverage gifts are always a nice addition to any lounge, and this year's sponsors included: Maven Cocktails - a new wine-infused vodka cocktail that tastes like a great glass of wine with the spirit of a classic mixed drink; Gourmesso®, providing compatible coffee capsules for Nespresso® machines; Ike's Place - Award winning sandwiches for meat eaters, vegetarians, vegans, and gluten free diets; and Quest Nutrition - providing a variety of Quest Protein Bars.
Unique finds made their mark, including: Running Press - bestselling author, speaker and world-traveling success coach, Jen Sincero, cuts through the din of the self-help genre with her own verbal meat cleaver in You Are a Badass: How to Stop Doubting Your Greatness and Start Living an Awesome Life; The Science of Eating - 32 oz Designer Water Bottles; fragrances from Truly Yours Parfums; Ventev - Ventev helps power users break away from the outlet and remain charged up throughout their busy day with their Powercell 3015; and Luxury Ride USA, offering $50 off retail rates for their first booking of Luxury Car Service nationwide.
The lounge featured an eclectic mix of music by DJ's AT LARGE - Since 1992, DJ's AT LARGE has been servicing the New Jersey and Tri-State area with top-shelf mobile DJ entertainment. Flowers and that a added touch of luxury were provided by Scott's Flowers NYC.
Charity beneficiaries included: Understood.org, which was onsite to create awareness of the 1 in 5 children who struggle with learning and attention issues related to reading, writing, math, organization, and focus. Also, Youth Villages, which was onsite gifting Vanessa Diffenbaugh's book as part of their dedication to help support emotionally and behaviorally troubled children and their families live successfully.
GBK, formerly GBK Productions, is a luxury lifestyle gifting and special events company, specializing in entertainment marketing integration. Formed in 2000 by Gavin Keilly, the company's Founder and CEO, GBK consists of five divisions: GBK Celebrity Gifting, GBK Special Events, GBK Weddings, GBK Charitable Consulting and GBK Marketing/Public Relations. Widely known in the entertainment industry for bringing that little extra something into the Gifting Lounge environment, GBK offers its clients a full range of marketing services. For more information on Gavin B. Keilly (CEO), Carla Domen (VP) or GBK, please go to gbkproductions.com.
###