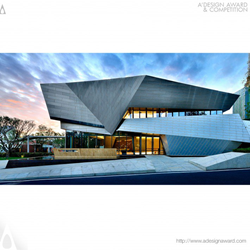 Como, Italy (PRWEB) September 20, 2015
A' Design Award and Competition is pleased to announce that the design project Tai Chi by Kris Lin has been announced as a winner of the Platinum A' Design Award in Architecture, Building and Structure Design Competition Category.
About Tai Chi
Kris Lin, the creator of the award winning Architecture work Tai Chi demonstrated "There are two blocks in façade design; one is dark color, the other is light color; they stand for two elements that are "Yin" and "Yang" of Tai Chi respectively. These two blocks are In opposition to each other but have mutual and harmonious existence, and they are integrated to become a complete singular form .In the meantime, we adopt clean lines and three dimensional cutting of sculpture technique with the aesthetics concept from the works (TAI CHI) of Mr. Jumin, All of these elements are integrated smoothly into architectural design. " Learn more about the award winning design: https://competition.adesignaward.com/design.php?ID=35265
Project Members for Tai Chi
Tai Chi was designed by Kris Lin and Jiayu Yang, Design Director.
The Platinum A' Design Award
The Platinum A' Design Award is a prestigious design award given to top 1% percentile designs that demonstrates an exemplary level of sublimity in design. Entries to the A' Design Award & Competition are judged by an international jury panel consisting of design experts, professionals, press members and academics. Each entry is peer reviewed and anonymously voted based on predetermined evaluation criteria. Laureates of the A' Design Award are granted the A' Design Prize which includes a series of public relations and marketing services such as inclusion in Design Mega Store, a custom-interview with the designer, press release preparation and distribution in addition to the 3D printed design award trophy, hardcover yearbook publication, exhibition and gala-night invitations.
About A' Design Award and Competition
The A' Design Award and Competition has a philanthropic goal to advance society by creating awareness for good design, science and technology, given this mission the design competition aims to highlight the excellent qualifications of best designs, design concepts and design oriented products worldwide. A' Design Award and Competitions are organized and awarded annually and internationally in multiple categories to reach a wide, design-oriented audience. Learn more about the A' Design Awards at: http://www.whatisadesignaward.com