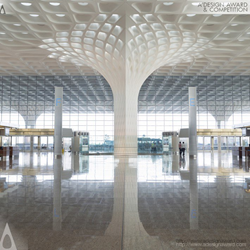 Como, Italy (PRWEB) September 20, 2015
A' Design Award and Competition is pleased to announce that the design project Chhatrapti Shivaji International Airport by Mumbai International Airport Ltd. & SOM has been announced as a winner of the Platinum A' Design Award in Architecture, Building and Structure Design Competition Category.
About Chhatrapti Shivaji International Airport
Mumbai International Airport Ltd. & SOM, the lead designer of the award winning Architecture project Chhatrapti Shivaji International Airport said "Located in the heart of Mumbai, the new hub adds 4.4 million square feet of space to accommodate 40 million passengers per year. By orchestrating the complex web of passengers and planes into a design that feels intuitive and responds to the region's rocketing growth, the new Terminal 2 asserts the airport's place as a preeminent gateway to India. The primary design feature of the building is a long-span roof covering a total of 70 000 m2, one of the largest roofs in the world without an expansion joint. The Terminal also includes the largest and longest cable wall system in the world." Learn more about the award winning design: https://competition.adesignaward.com/design.php?ID=36584
Design Team for Chhatrapti Shivaji International Airport
Chhatrapti Shivaji International Airport was made by Design Architect and Structural Engineer: Skidmore, Owings & Meriill LLP, Architect and Engineer of Record: Larsen & Tuobro Ltd., Client and Owner: GVK, Baggage Handling: BNP Associates, Lighting: Brandston Partnership, Inc., Acoustics: Cerami & Associates, Signage and Wayfinding: Pentagram Design, Inc. and Entro, Engineering Consultant: Mulvey & Banani International, Inc., MEP: Rolf Jensen & Associates, Vertical Transportation: Van Deusen & Associates,
The Platinum A' Design Award
The Platinum A' Design Award is a prestigious award given to top 1% percentile designs that has achieved an exemplary level of perfection in design. Entries to the A' Design Award & Competition are peer reviewed and anonymously voted by a grand jury panel consisting of academics, press members and design professionals. Designs that receive the highest scores are announced as winners after criteria based voting. Laureates of the A' Design Award & Competition are granted a series of public relations and publicity services such as inclusion in World Design Rankings, publicity through DXGN and IDNN design magazines in order to celebrate the status of winning the accolades. Laureates are also invited to attend the exhibition and gala-night in Italy in order to receive their trophies, design excellence certificates and the yearbook annuals.
About A' Design Awards
The A' Design Award & Competition has a philanthropic goal to advance society by pushing the frontiers of science, design, creativity and technology forward by creating incentives for innovators to come up with better ideas. The A' Design Competition aims to create incentives that ignite and reward creativity, original ideas and concept generation in all industrial sectors. The "A' Design Award Winner" logo, given to award winning designs, signifies original, functional and efficient designs that help the world become a better place. Learn more about A' Design Awards at http://www.whatisadesignaward.com