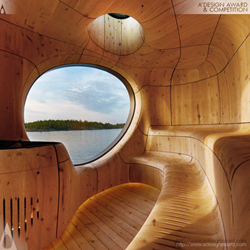 Como, Italy (PRWEB) September 20, 2015
A' Design Award and Competition is pleased to inform that the design project Grotto Sauna by PARTISANS has been announced as a winner of the Platinum A' Design Award in Architecture, Building and Structure Design Competition Category.
Details of Grotto Sauna
PARTISANS, the creative mind behind the award winning Architecture design Grotto Sauna said "Perched at the northwest edge of an island in Georgian Bay, Canada, the Grotto Sauna is a feat of old-world craftsmanship and new-world sustainability made possible by cutting-edge technology. When the clients - avid architecture and design enthusiasts - commissioned the studio to build a sauna, they wanted "to be surprised" by the out-of-the-ordinary and to be part of a creative storytelling process. Inspired by an Italian grotto - a secret and sacred water-filled cave - the experimental design pays homage to the extremities of the landscape to forge a compelling architectural experience." Learn more: https://competition.adesignaward.com/design.php?ID=36937
Team Members for Grotto Sauna
Grotto Sauna was designed by Alexander Josephson, Pooya Baktash, Jonathan Friedman, Ivan Vasyliv, and Betty Vuong.
The Platinum A' Design Award
The Platinum A' Design Award is a prestigious award given to top 1% percentile designs that has accomplished an exemplary level of perfection in design. Entries are evaluated by peer-review and anonymous voting based on predetermined criteria. Platinum A' Design Award winners are products that not only demonstrate superior function but also unmatched aesthetics. Laureates of the A' Design Award & Competition are provided a series of services and tools to celebrate the status of winning the accolades. Award winners receive the A' Design Prize which includes the annual yearbook of best designs, design excellence certificate, award winning design logo, and a special 3D printed metal award trophy in addition to PR and publicity services as well as invitation to the gala-night and exhibition.
About A' Design Award and Competition
The A' Design Award & Competition was established to advance the design profession by highlighting the best examples of original and innovative creative work. The A' Design Accolades are annually organized in over hundred design competition categories and entry is open to all countries. The ultimate aim of the design competition is to create a global appreciation and understanding of good design: Learn more about the A' Design Awards at http://www.whatisadesignaward.com