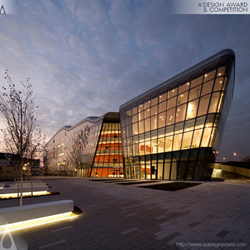 Como, Italy (PRWEB) September 20, 2015
A' Design Award and Competition is pleased to announce that the design project ICE Krakow by Ingarden & Ewý Architects has been announced as a winner of the Platinum A' Design Award in Architecture, Building and Structure Design Competition Category.
More information on ICE Krakow
Ingarden & Ewý Architects, the lead designer of the awarded Architecture project ICE Krakow said "ICE Krakow Congress Centre is a modern venue dedicated to cultural events: music, ballet and theatre performances as well as congresses – comprised of three main halls with 1915, 600, and 300 seats, and a multifunctional conference area of 550 sq.m. Designed at the highest standards of acoustics and mechanics, it surpasses international congress organization norms. An asset of ICE is also its unique location opposite Wawel Castle. The building boasts a glass façade facing the Vistula embankment with the multi-storey foyer offering a panoramic view of Old Krakow." Learn more: https://competition.adesignaward.com/design.php?ID=38565
Project Members for ICE Krakow Congress Centre
ICE Krakow Congress Centre was imagined by Main architect: Krzysztof Ingarden, Co-author: Jacek Ewy, Co-author: Arata Isozaki, Co-author: Hiroshi Aoki, Project manager: Piotr Urbanowicz, Ingarden & Ewy team: Jacek Dubiel, Sylwester Staniucha, Dariusz Grobelny, Piotr Hojda, Sebastian Machaj, Grzegorz Miasko, Joanna Bielawska-Zabek, Olga Jasiak, Bartosz Kardas, Piotr Kita, Tomasz Koral, Jakub Wagner, Anna Biskupska-Sperka, Slawomir Janas, Hiroyuki Mae, Agata Staniucha, Krzysztof Stepniak, Maciej Szromik, Jacek Szuba, Maciej Wierzbinski, Maja Wilczkiewicz-Janas, Tomasz Zeludziewicz, Marta Branska and Bartosz Haduch
The Platinum A' Design Award
The Platinum A' Design Award is a prestigious award given to top 1% percentile designs that has accomplished an exemplary level of quality in design. Entries to the A' Design Award and Competition are peer reviewed and evaluated by an expert jury composed of prominent academics, established scholars and influential press members, following strict guidelines and criteria. Laureates of the A' Design Award are given the A' Design Prize which includes a series of PR and publicity tools such as List of Net subscription to help promote winners.
About A' Design Award and Competition
A' Design Award and Competition aims to push designers, architects and project developers worldwide to come up with superior projects that benefit society. The A' Design Awards has a philanthropic goal to support designers, artists and architects who demonstrate excellent design quality in their work. The very best design projects are promoted and highlighted worldwide to achieve a global appreciation and understanding of good design. Learn more about the A' Design Prize by visiting: http://www.whatisadesignaward.com