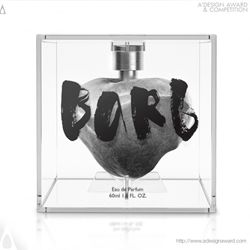 Como, Italy (PRWEB) September 20, 2015
A' Design Award and Competition is pleased to announce that the design project Barb Perfume by Roma Lazarev has been announced as a winner of the Platinum A' Design Award in Packaging Design Competition Category.
Regarding Barb Perfume
Roma Lazarev, the designer of the awarded Packaging design Barb Perfume explained "Barb is a perfume brand for men, which stands out against others on the market crowded with trendy and glossy flasks. It reflecs the man's personality, savage power and courage. The brand has fluid identity and do not use logo in its common sense, for it contradicts the philosophy of Barb, the philosophy of free and fearless spirit. Barb doesn't hang tags and doesn't attach anybody to the brand. The man, himself, is the brand. Barb is the absolute extension of it's owner's personality." Learn more at: https://competition.adesignaward.com/design.php?ID=36959
Creative Team for Barb Perfume
Barb Perfume was realized by Roma Lazarev, Sergei Anenko, Alexander Romanov, Anton Khabarov and Elena Khoroshiltseva
About The Platinum A' Design Award
The Platinum A' Design Award is a prestigious award given to top 1% percentile designs that has achieved an exemplary level of greatness in design. The designs are judged by a panel of three different jury which is composed of Academic, Professional, Press Member and Focus Group Members. Entries are evaluated with score normalization to remove any biases and are voted on aspects such as aesthetics, visual appeal, technical design, presentation, innovation, usability, fun details, technology, and any other specific points that could be considered, each of these points are further weighted for different jury groups. Laureates are given a series of pr and publicity service such as inclusion in popular designers index.
About A' Design Award and Competition
A' Design Award and Competition aims to push designers, architects and project developers worldwide to come up with superior projects that benefit society. The A' Design Awards has a philanthropic goal to support designers, artists and architects who demonstrate excellent design quality in their work. The very best design projects are promoted and highlighted worldwide to achieve a global appreciation and understanding of good design. Learn more about the A' Design Prize by visiting: http://www.whatisadesignaward.com