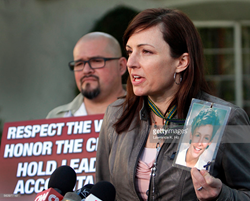 "Pope Francis could say that if you've ever abused a child, you're out," said Joelle Casteix, an abuse victim and longtime victims' advocate. "If you've ever covered up for child sexual abuse, you're out"
New York, NY (PRWEB) September 21, 2015
During this week's New York City Papal visit, a leading survivor advocate and expert on the global Catholic clergy sex abuse crisis will be available for in-person and in-studio interviews regarding Pope Francis' statements about the clergy sex abuse and cover-up, recent news surrounding the scandal, proposed "reforms," and victims' reactions to the papal visit.
Joelle Casteix, bestselling author and 15-year leading national expert on Catholic clergy sex abuse and cover-up, was fifteen when she was victimized by her teacher at a Catholic school.
Now, The New York Times, Orange County Register and more than 200 other media outlets call her the "go-to expert" on the Catholic clergy sexual abuse crisis.
For the past 13 years, she has worked with more than 1,000 adult victims of Catholic clergy child sex crimes across the globe. Her expertise includes an in-depth understanding and recognition of patterns of clergy sexual abuse and cover-up in the Catholic Church, predatory behaviors, grooming, prevention, and institutional disregard.
Since 2003, Joelle has been the volunteer Western Regional Director of SNAP, the Survivors Network of those Abused by Priests and has traveled the world exposing abusers, helping victims get healing, justice and accountability, and researching predatory abuse patterns in institutions.
Her new bestselling book is The Well-Armored Child: A Parent's Guide to Preventing Sexual Abuse. Her recent TEDx talk went viral, with more than 30,000 views in a week.
A media veteran, having appeared on dozens of television and radio shows, Casteix can discuss the following and more:

The Vatican, Pope Francis, and the clergy sex abuse scandal
The recent United Nations report on child sex abuse and the Vatican
Historical perspectives and recent developments on the crisis
The "Francis Effect"
The upcoming film SPOTLIGHT, starring Michael Keaton and Mark Ruffalo
Different statutes of limitations for the criminal and civil prosecution of child sexual abuse
About Joelle
For the past 13 years, Joelle Casteix has been a leading expert on the global Catholic Clergy Sex Abuse crisis
Casteix's blog, The Worthy Adversary, is one of the leading sources for information and commentary on child sexual abuse prevention and exposure, especially within the Catholic Church
Her new book The Well-Armored Child: A Parents Guile to Preventing Sexual Abuse is available on Amazon.com as well as at other fine booksellers. To learn more visit: casteix(dot)com, or visit her on Facebook.
Contacts: Joelle Casteix, jcasteix(at)gmail(dot)com, (949) 322-7434 (voice and text)
Kristi Hughes, Kristi(at)smithpublicity(dot)com 856-489-8654, ext.322