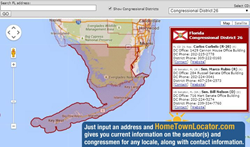 "Easy access to reliable and detailed data on every small residential area in the U.S. can be a great resource for scouting different locations and neighborhoods" Matt Smith, CEO, HTL Inc.
Malabar, FL (PRWEB) September 22, 2015
Input an address and get recently updated demographic data and resources for any small local area. The data that you get from the HomeTownLocator.com "Address-Based Research Tool" really zooms in on a small area. You can get a clear, detailed and current picture of the makeup of any neighborhood.
DATA & DEMOGRAPHICS
Population, housing and income information

The average and median home values
The average and median household incomes
The average household size (how many people live in each home, on average)
The number & percentages of owner occupied, renter occupied and vacant homes
The population growth rates for the area of interest: past and projected growth
The number of people living in group quarters such as dormitories, group homes and correctional facilities
How diverse the population of the area is: a measure in percentage of the ethnic diversity of the residents of the area of interest
CURRENT 2015 DATA: ADDRESS BASED SEARCH
The data is derived from current, July 2015, U.S. Census Bureau "Census Block Group" information; the smallest geographical unit used for reporting certain types of data. A search input form for this "Hyperlocal Data, Demographics & Directory Tool" is accessed from the home page of HomeTownLocator.com, and also on each state gazetteer page; just select the state you want and enter an address in the Hyperlocal Research search form provided. The level of detail you get back is quite impressive.
CUSTOMIZED SEARCHABLE MAP
You'll also get a customized, searchable Google map and a customized directory for the address that you entered. So in addition to the range of specific information provided, you can also search the area for various specifics. The searchable maps are centered on the geographic coordinates for the address you entered. For example, you can search by either a business name or a business category.
CUSTOMIZED DIRECTORY
A customized directory is provided: health care, health and fitness, churches, community centers, parks, sports and recreation, and more. The directory defaults to a search radius that is centered on the geographic coordinates for any address that you enter.
HIGHER-LEVEL GEOGRAPHIC, POLITICAL AND ADMINISTRATIVE UNITS
Your address search will also return a range of higher-level geographic, political and administrative units that are applicable to the specific address of interest: the census tract, county, county subdivision and ZIP Code. It will also include the incorporated city, town, village or census designated place (CDP) that encompasses the address. You can find the congressional representatives for any area.
SCHOOL ATTENDANCE ZONES (SAZ)
Your address search will also tell you what school zones the address is within: it will give you the elementary, middle and high school (where applicable) that have school boundaries that include the address of interest. Click on a school link for more detailed information. Currently, HomeTownLocator.com has SAZs that cover over 88% of the U.S. student population.
SOPHISTICATED DATA COMPILATION BASED ON RELIABLE RESOURCES
The data, demographic estimates and forecasts in the HTL website are based upon July 1, 2015 updated data produced by Esri Demographics, which use the latest US Census Bureau annual American Community Survey (ACS) as a starting point. They then combine additional data from multiple sources including residential postal delivery counts from the USPS, a time series of county-to-county migration patterns from the IRS, building permits, housing starts and local data sources that tested well against Census 2010.
-------------------------------------------------------
ABOUT HomeTownLocator.COM
HomeTownLocator®, produced by HTL, Inc., is a Website that provides detailed community profiles for 179,000 cities, towns and other populated places, complete with maps, aerial photos and details on 1.8 million physical, cultural and historic places. Want to know the congressional representative for your area or for any US zip code? HomeTownLocator.com makes this easy. You can also search for jobs, homes, schools or physical features such as beaches, woods or lakes.
The HomeTownLocator Gazetteer, launched in 2002, received nearly 2 million unique visitors in the last 12 months according to directly measured data by QuantCast.com. Based on monthly traffic, QuantCast currently ranks HomeTownLocator.com in the top 0.2% of the leading US websites that they monitor.
In addition to the very current demographic data, the most popular features on the site include:
School Attendance Zones
Local Area Photos
Directory of Business, Government and Social services
Maps and Driving Directions to thousands of Physical, Cultural and Historic Features
Interactive maps for counties, ZIP Codes, Congressional Districts and School Zones