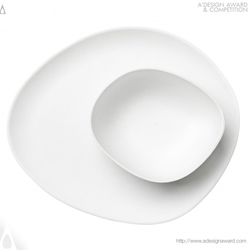 Como, Italy (PRWEB) September 21, 2015
A' Design Award and Competition is pleased to inform that the design project Pebble Bagasse by Simi Gauba from Duni AB has been announced as a winner of the Golden A' Design Award in Disposable and Single-Use Product Design Competition Category.
Details of Pebble Bagasse
Simi Gauba from Duni AB, the creative mind behind the awarded Disposable Product design Pebble Bagasse demonstrated "The Pebble Collection is inspired by the organic shape of the humble pebble. These elegant plates and bowls are made from bagasse. Bagasse is a robust natural by-product of sugarcane, which is renewable and compostable. It requires fewer chemicals for processing and uses less energy to process. Once composted, it returns to soil in just 8 weeks. What better raw material to use for a single use/disposable plate and bowl." Learn more at: https://competition.adesignaward.com/design.php?ID=37223
Creative Team for Pebble Bagasse Collection
Pebble Bagasse Collection was designed by The Pebble Collection has been made for the Consumer Department of Duni AB. This project has been visualized and designed by me, Simi Gauba, from sketch to concept to the final designs. and My main support in this project has been Therese Nilsson, the Category manager for this product at Duni AB, Sylvia RongXu, Sourcing manager at Duni AB, who got the prototypes made in China and Anna Karin Fäldt, the design and marketing manager at Duni.
The Golden A' Design Award
The Golden A' Design Award is a prestigious award given to top 3% percentile designs that has carried out an exemplary level of quality in design. Entries to the A' Design Award & Competition are peer reviewed and anonymously voted by a grand jury panel consisting of design scholars, prominent editors and design professionals. Entries are voted on predetermined evaluation criteria such as aesthetics, design quality and techniques. Award winning designs are exhibited internationally in Italy and World Design Hub. Award winners are published and featured in a hard-copy book, are given design excellence trophies and are included in World Design Rankings and are invited to join the glamorous black-tie award ceremony in Como Lake. Award winning works are further translated to all languages to create true international reach.
About A' Design Award and Competition
A' Design Award and Competition aims to highlight best designs, design concepts and design oriented products worldwide in order to create a global awareness for good design. A' Design Award and Competitions are organized and awarded annually and internationally in multiple categories to reach a wide, design-oriented audience from across the globe. The ultimate aim of the A' Design Accolades is to push designers and product manufacturers worldwide to come up with superior products that benefit society. Learn more and discover A' Design Awards at: http://www.designaward.com