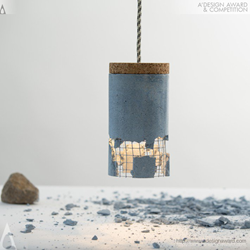 Como, Italy (PRWEB) September 21, 2015
A' Design Award and Competition is pleased to inform that the design project Slash Lamp by Motica Dragos has been announced as a winner of the Golden A' Design Award in Limited Edition and Custom Products Design Competition Category.
Details of Slash Lamp
Motica Dragos, the creator of the awarded Limited Edition design Slash Lamp said, "Slash Lamp is an object that gives the chance of choice. A subjective and personal choice. It is an object at the middle of two opposite states of intervention or non-intervention. The main intent of this object was to provoke and to establish a personal relationship between the lamp and its end user, making it more "valuable" and give the end user the possibility to choose between breaking the lamp or leaving it intact. It empowers the owner, leaving him with the power of making a decision." Learn more at: https://competition.adesignaward.com/design.php?ID=38862
Creative Team for Slash Lamp
Slash Lamp was imagined by Dragos Motica
The Golden A' Design Award
The Golden A' Design Award is a prestigious award given to top 3% percentile designs that have exhibited an exemplary level of excellence in design and arts. Entries to the A' Limited Edition design competition are peer reviewed and anonymously judged by artists, scholars and press members following strict evaluation guidelines. Laureates of the A' Design Award are granted a series of PR and Publicity services such as exhibition of their work in Italy, as well as online sites such as DM Design Magazine. Award winners are also invited to make use of design mediators, designer rankings, design adage and other platforms designed by the A' Design Awards.
About A' Design Award and Competition
A' Design Award and Competition is organized and awarded annually and internationally in all creative design disciplines to reach a wide, design-oriented audience. Award winning works are translated to all languages in order to create a global awareness for good design practices and principles. The ultimate aim of the A' Design Accolades is to create incentives for designers, artists, architects, brands and product manufacturers to come up with superior products and projects that benefit society. To learn more about the A' Design Awards please visit: http://www.whatisadesignaward.com