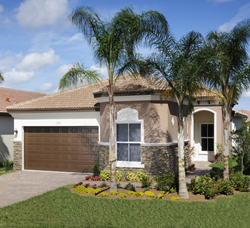 Today's buyers in 55-plus communities want homes they can live, work, and play in, all in active communities that surround them with the latest amenities and lifestyle facilities - Ron Yuter, Senior Vice President with developer Ansca Homes
Delray Beach, Florida (PRWEB) September 22, 2015
Baby Boomers aren't ready to stop punching the clock – or living active lives. Research shows that today's boomers and empty nesters are redefining retirement. As the youngest of the post-war generation reach retirement age, they're working in their later years, whether running their own businesses, starting side enterprises, or just staying on in careers they enjoy.
They're also living well. They're entertaining and hosting friends and family – and looking for homes to suit their needs. Today's 55-plus residential communities, like Villaggio Reserve in Delray Beach, Florida, are creating luxury single-family homes and villa residences with rooms and spaces that can easily serve as home offices, dens, or guest rooms for visiting friends and relatives. The community recently introduced new models with a variety of new, useful spaces.
"Today's buyers in 55-plus communities want homes they can live, work, and play in, all in active communities that surround them with the latest amenities and lifestyle facilities," said Ron Yuter, Senior Vice President with developer Ansca Homes. Residences at its Villaggio Reserve resort-style community, range from the $290,000s to the $400,000s. "From home offices to guest bedrooms, even large, covered patios, the spaces they're looking for have redefined retirement – and luxurious living."
This "new retirement" model serves a reinvention of career – and the lifestyle older boomers are leading. Most "retirees" and pre-retirees today want to keep working and staying active as they age, according to recent studies. Almost half (47%) plan to work after they retire, and 72% of pre-retirees 50 and older say they'll keep working after retirement, notes a study from Merrill Lynch.
Meanwhile, they're living active lives, and want homes to suit their diverse needs. Many boomers want homes with home offices, dens, guest bedrooms, or larger outdoor entertainment spaces.
The single family homes at Villaggio Reserve deliver elevated luxury and all the elements a home owner – or home-business owner – needs. The community this summer introduced a new line of single family homes that include popular combinations of two or three bedrooms, two or three baths, a den or home office, a family room and living room, an entertainment space, and separate eat-in area. All single family homes include two-car garages.
Whether the single family homes, the Patio Villas, or new Villa End Units, each home includes granite countertops and high-end Kitchen Kraft® cabinetry in the kitchens and master bathrooms; stainless steel and high-efficiency GE appliances; and the protection and peace of mind of impact-resistant windows, doors and garage doors.
Active 55-plus communities are incorporating a host of amenities throughout the development to suit their needs. Not only are single-family homes and villa residences rich with creative floorplans to suit residents' new lifestyles, the communities themselves serve up active living.
At Villaggio Reserve, for example, a full-time chef and kitchen crew prepare breakfast and lunch to be served in the Café or the open-air lanai at the multimillion dollar Cabana Club resort-style clubhouse. The Fitness Center and Serenity Spa feature full work-out facilities, a studio for Pilates, Zumba, aerobics, and other classes, as well as massage and treatment rooms.
Outside are three heated pools – and a wading pool for the grand kids, as well as the Tennis Center with a half-dozen lighted tennis courts, two pickle ball courts, and a full-service pro shop.
When the multimillion dollar Phase II of the Cabana Club opens in 2016, it will include a grand ballroom, a billiards room, and a variety of other multipurpose rooms. For those boomers who want to work outside the confines of their home office, a Business Center and complementary, password protected wi-fi will let them work anywhere life takes them.
"With boomers working and living longer than previous generations, they're taking a new look at their later years," Yuter said. "Not only do many see work – at least part time or new entrepreneurial ventures – as part of daily life, they want robust social engagements and very active lifestyles."
About Villaggio Reserve: Built by Ansca Homes, Villaggio Reserve is a luxury lifestyle destination community in Delray Beach, Florida. Learn more at http://www.VillaggioReserve.com, or call today at (561) 440-7950. Media Contact: Jeff Zbar ~ 954-346-4393 or jeff@gotwords.com.