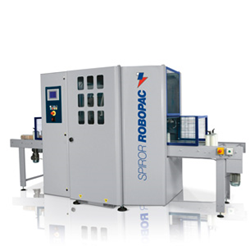 Aetna and TopTier will be exhibiting their product lines and making further announcements regarding the joint venture at PackExpo Las Vegas, Sept 28-30, Booth S-6119.
(PRWEB) September 22, 2015
Aetna Group is the world leader in providing stretch wrapping, shrink bundling, and case packing solutions through its Robopac, Dimac, and Prasmatic products. TopTier is the world leader in concurrent stretch wrap palletizing technology. Both companies serve the packaging needs of many of the world's largest companies in the food, personal care, pet food, pharmaceutical, dairy, and industrial markets.
The strategic joint venture will offer numerous benefits to its packaging customers:
1. U.S. based facility to manufacture Aetna Group's Robopac, Dimac, Prasmatic equipment, and TopTier's palletizers.
2. The leading experts in load integrity:
Aetna Group's innovative CUBE load stabilizing technology.
TopTier's patented modular palletizer designs with load intelligence technology.
3. East Coast and West Coast operations for parts, service, and sales.
4. TopTier palletizers will be sold and serviced through Aetna Group's existing sales channels in North America and over 120 countries worldwide.
5. The industry's highest commitment to safety for end-of-line solutions.
About Aetna Group
Aetna Group manufactures stretch film wrapping machinery, bundlers, shrink film wrappers, cartoning, case packing, and taping machines. Aetna Group, headquartered in Rimini, Italy, operates five production plants in Italy and one plant in Brazil and manages an international network of 450 agents and distributors. Aetna Group has over 150,000 end-of-line installations worldwide.
About TopTier
TopTier is the top selling line of palletizers in North America. TopTier manufactures palletizers exclusively with installations throughout the U.S. and select countries worldwide. TopTier palletizers are engineered and built in a 100,000 square foot vertically integrated manufacturing facility located in Portland OR, USA.