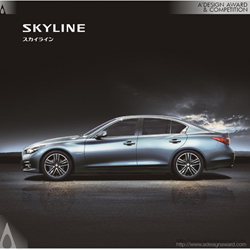 Como, Italy (PRWEB) September 21, 2015
A' Design Award and Competition is pleased to inform that the design project Nissan skyline by E-graphics communications has been announced as a winner of the Golden A' Design Award in Advertising, Marketing and Communication Design Competition Category.
Details of Nissan skyline
E-graphics communications, the project leader of the awarded Advertising design Nissan skyline demonstrated "The all-new SKYLINE has no NISSAN logos anywhere, either with the exterior or the interior. Only Infiniti logo. The car maintains its name as SKYLINE, synonymous with the sport sedan representing Japanese cars for a long time. However, this vehicle is to be introduced as a new SKYLINE under Infiniti brand in Japan. We aimed to realize the world-view of a premium sport sedan only the made-in-Japan vehicle could provide, being different from the glamorous worldview of Infiniti brand or the European taste of BMW, Audi and Mercedes. " Learn more: https://competition.adesignaward.com/design.php?ID=37469
Design Team for Nissan skyline
Nissan skyline was designed by Exective creative director: Tomohira Kodama, Creative director: Yoshihiro Mimura, Art director: Junichi Yokoyama and Copy writer: Mao Takahashi
The Golden A' Design Award
The Golden A' Design Award for Advertising is a prestigious award given to top 3% percentile designs that has accomplished an exemplary level of quality in design. Entries to the architectural design awards are peer reviewed and anonymously voted by a grand jury panel of established scholars, experienced design professionals as well as prominent press members. Award winning creative agencies re granted the coveted A' Design Prize to celebrate the success of winning the accolades. The A' Design Prize includes everything an agency needs to promote their good design works such as invitation to join the International Association of Designers.
About A' Design Award and Competition
A' Design Award & Competition was designed and developed as a tool to promote good design practices and principles worldwide with a hope to create a global awareness for good design. By creating a global awareness for good design, the competition aims to create demand for better products and projects that make use of good design practices and principles, which in turn, creates additional value for the society. Learn more about the A' Design Awards at: http://www.whatisadesignaward.com