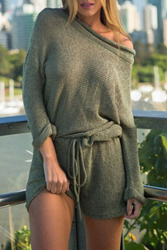 This fall, give yourself a new look, and do your wallet a favor.
(PRWEB) September 30, 2015
Today is a great day for all fashionable women and their wallet. Fashion brand OASAP is going to have a huge sale. According to Mr. Jefferson Wiggins, chef executive officer of OASAP, the sale will last for a month. "We want to say thank you to the customers," said Mr. Wiggins. "OASAP has been found for almost four years. And the customers have always been very supportive and kind. So we believe it's time for us to say thanks to all these adorable people. For the customers, nothing is possibly better than a huge sale. That's how the sale came about."
According to the webpage, the sale is divided into three categories: new arrivals, best-selling products, and clearance. For new arrivals, the brand generally provides 15% to 20% discounts. For best-selling products, the discount is generally 5% to 25% bigger than new arrivals. And last but not least, the discount on clearance products sounds dramatic. It starts from 50% off! It sounds like OASAP is about to make history.
So, women, don't miss this chance. Give yourselves a brand new fashion look, and do your wallet a favor as well.
More information about this huge sale can be found here.
About OASAP
OASAP IS: A High-street Fashion Online Store
OASAP Likes to: Deliver Fashion & Love!
OASAP is a global online store dedicated to high-street fashion by offering various kinds of women's dress, summer fashion dress, party dress, evening dresses, summer outfits, and summer bikinis, etc.
OASAP was founded in late 2011 and has already grown to be the leader of high fashion online stores. We keep updating products at a high rate every day. Now we update more than 300 new products each week. The products mentioned before definitely belong to the latest fashion trend. OASAP's mission is to get you closer to the planet's most cutting-edge fashion, no matter where you are or what class or age group you are in. Pursuing fashion is the right of every woman.