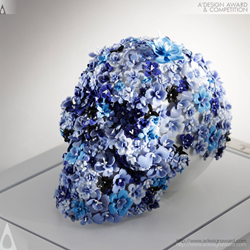 Como, Italy (PRWEB) September 21, 2015
A' Design Award and Competition is pleased to announce that the design project Life is Flower by Yasumichi Morita has been announced as a winner of the Golden A' Design Award in Luxury Design Competition Category.
About Life is Flower
Yasumichi Morita, the creative mind behind the awarded Luxury project Life is Flower explained, "Life is Flower is an artistic exercise conceived by the Japanese designer Yasumichi Morita for Lladró. It displays its beauty thanks to the techniques and skills of a Lladró creation with a variety of porcelain flowers. This blossoming speaks of a "future" of dreams and hopes, and spreads its message of "happiness of life" to people all around the world. With over 500 flowers in different tones of blue and handmade petal by petal by artists at Lladró, Life is Flower is a limited edition of 100 pieces in this decoration."
Learn more: https://competition.adesignaward.com/design.php?ID=39810
Design Team for Life is Flower
Life is Flower was made by Yasumichi Morita, Jo Umeno and Torahiko Suga
The Golden A' Design Award
The Golden A' Luxury Design Award is a prestigious award given to top 3% percentile designs that has exhibited an exemplary level of sublimity in design. Entries to the A' Luxury Design Award and Competition are peer reviewed and anonymously judged by an expert jury panel of design scholars, professionals and editors. Laureates of the A' Luxury Design Awards are granted a series of PR and Publicity tools to help celebrate the success of winning the accolades such as invitation to join the World Design Consortium. Award winning designers are invited to attend the black-tie award ceremony in Como Lake / Italy to retrieve their almanac of best designs, design excellence certificates and exclusive 3d printed metal award trophies. Entries to the A' Design Award & Competition are ongoing and results are announced every year on April 15, during world design days.
About A' Design Award and Competition
Since its establishment, the International A' Design Award and Competition has been creating a global awareness for good design practices and products by featuring the best designs in all industries and in all countries. The design competition recognizes design excellence in products, projects and services. A' Design Award and Competitions are organized and awarded annually and internationally in multiple categories to reach a wide, design-oriented audience. Learn more about the A' Design Award at: http://www.whatisadesigncompetition.com