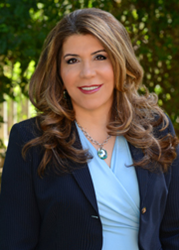 Gilbert, AZ (PRWEB) September 21, 2015
Hanna K. Mansoor, DDS is now certified to perform BIOLASE WaterLase iPlus 2.0™ laser gum surgery. She now treats her patients suffering from gum disease in Gilbert, AZ with a minimally invasive tool that uses light and water to eradicate bacteria and infection. The FDA-cleared laser provides safe and effective treatment without pressure and heat, reducing or eliminating the pain and trauma of traditional gum surgery. Most procedures can be performed without anesthetic due to the gentle nature of the technology.
There are a number of risk factors that may contribute to gum disease in Gilbert, AZ. Bacteria and food acid create plaque and calculus around the roots of teeth, which hardens and extends below the gum line where it leads to periodontal disease. Good oral hygiene is one method of prevention, but if a person has misaligned teeth, uses tobacco or has experienced hormone fluctuations, even regular brushing, flossing and professional dental cleanings may not be enough to keep teeth and gums healthy. A dentist usually requires shots and invasive tools such as a drill and scalpel to access these deep pockets and remove the bacteria, calculus, infected bone and gums. Now, we can treat periodontal disease with the WaterLase iPlus 2.0™ instead with very minimal discomfort.
Dr. Mansoor wants her patients with gum disease in Gilbert, AZ to experience a complete recovery, and to that end, she offers laser gum surgery as an alternative to invasive scalpel techniques. The BIOLASE WaterLase iPlus 2.0™ laser accesses affected areas without harming surrounding tissues, and after the bacteria and calculus is removed, coagulation and new bone growth are stimulated for a rapid and complete recovery.
People who are interested in learning more about laser gum surgery and other procedures Dr. Mansoor can perform with the BIOLASE WaterLase iPlus 2.0™ System can find information on her website: http://www.smilesbyhanna.com.
About the Practice
Smiles By Hanna is a general practice offering personalized dental care for patients in Gilbert, AZ. Dr. Hanna K. Mansoor and her team provide a wide range of services and are committed to high quality, professional care through the use of laser dentistry and other advanced techniques. To learn more about the services offered at Smiles By Hanna please visit their website at http://www.smilesbyhanna.com or call (480) 279-3700 to schedule an appointment.