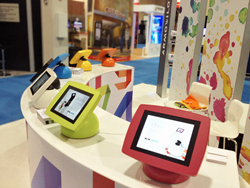 Our goal is to provide our customers with the best-in-class service, maintaining a consistent quality experience in-line with our overall strategy of providing overall quality products & service
Waterloo ON (PRWEB) September 22, 2015
Award-winning tablet stand manufacturer Armodilo Display Solutions has raised the bar in website design and functionality with their newly redesigned website.
"We wanted to give our users a truly amazing and memorable experience when visiting our website and when ordering our award winning tablet display enclosures. We went back to the drawing board to build a completely fresh and new experience. The feedback has been extremely positive and we're very happy with the results," says Leanne Gray, Co-Founder of Armodilo Display Solutions.
Their new website allows customers to quickly and easily access the complete line of high quality tablet display enclosures, with the ability to custom build their order, to attach the required accessories, and to request custom laser etching or silk screening to personalize their tablet display enclosure.
The redesigned site uses the same domain name as the original site, http://www.armodilo.com, and features live online chat functionality with real-time support to assist customers as they walk through their online experience.
"Our goal is to provide our customers with the best-in-class service, maintaining a consistent quality experience in-line with our overall strategy of providing overall quality products & service," says Iles Guran, Founder.
Armodilo Display Solutions is a multiple award-winning tablet display manufacturer located in Ontario, Canada. With a variety of tablet display stands and accessories for trade show, event, retail and corporate markets, Armodilo sets itself apart by creating highly refined products for discerning brands around the world.