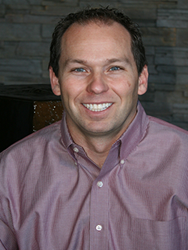 Durango, CO (PRWEB) September 21, 2015
Dr. Mason Miner is pleased to announce the availability of laser dentistry in Durango, CO, to perform laser frenectomy treatments. Using a highly focused beam of light, he is able to remove the extra muscle tissue beneath the tongue or under the upper or lower lip that prevent proper movement and function in the mouth. This procedure is quick and causes little to no discomfort, putting both children and parents at ease. There is no need to take your child to the operating room.
When the muscle under the tongue is too short or extends to the end of the tongue, it restricts an individual's ability to lead a normal life. Infants are often unable to latch and breastfeed properly, and older children typically have difficulties with speaking, breathing or consuming food. A similar muscle attaches the top lip to the gums above the teeth, and excess tissue in this location also prevents a baby from latching to the breast and achieving proper suction. As the child ages, this muscle interferes with the front teeth, creating a significant gap that generally cannot be remedied with braces. This interference also causes difficulty with proper oral hygiene, leading to cavities and gum disease.
A frenectomy is a simple procedure that eliminates this tissue connection. Most dentists clip the muscle with scissors or a scalpel and then stitch the area closed. While this method can be effective, the wound is painful and difficult to keep clean, increasing the risk of infection for the child. By using laser dentistry, Dr. Miner virtually eliminates this issue, as well as the trauma of oral surgery, by using laser dentistry in Durango, CO. The laser vaporizes the extra tissue, causing very little bleeding with bio-regenerating oral tissue for speedy recovery. The procedure requires only a numbing agent, eliminating the necessity for shots.
Early trauma experienced in the dental chair can cause a lifelong fear of routine dental visits. Parents in Durango, CO, who want to provide the most optimal oral care for their children, can learn more about laser dentistry and the frenectomy procedure on Dr. Miner's website.
About the Doctor:
Dr. Mason Miner is a general dentist offering personalized dental care for the entire family, in Durango, CO. Dr. Miner is a graduate of Marquette University School of Dentistry in Milwaukee, Wisconsin. Beyond that, he also completed training in Advanced Education in General Dentistry at the University of Missouri, Kansas City. Dr. Miner focused his studies on the surgical placement and restoration of dental implants, which he offers as a service at his practice. Dr. Miner is a member of the American Academy of Facial Esthetics, American Dental Association, the Colorado Dental Association and the San Juan Basin Dental Society. To learn more about the services offered by Dr. Miner, please visit his website at http://www.masonminerdds.com or call (970) 306-0535 to schedule an appointment.