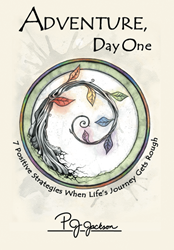 WASHINGTON, D.C. (PRWEB) September 22, 2015
After learning about her husband's acute myeloid leukemia diagnosis, PJ Jackson knew two things: there was a reason this was happening and she and her husband would have the strength to get through it.
In the midst of the challenge, Jackson noticed a pattern to dealing with the diagnosis. This pattern turned into a series of strategies Jackson explains in her new book, "Adventure, Day One."
"After recognizing our coping pattern we knew it could help others," Jackson said. "We've decided to share our journey to help others live fully in the midst of crisis."
"Adventure, Day One" outlines seven secrets to coping with life's challenges, while at the same time telling PJ and her husband's story.
PJ believes people have a choice to live positively and encourages others to see life's problems not as tragedies, but as adventures.
"Being positive can change your life and accelerate you to the next level, no matter what challenges you face," Jackson said. "Choose to be positive, make a conscious choice to change your attitude and the world will change with you."
For more information, visit http://www.adventuredayone.net
"Adventure, Day One"
By PJ Jackson
ISBN: 978-1-4525-1486-4
Available in softcover and e-book
Available on Amazon, Barnes & Noble and Balboa Press
About the author:
PJ Jackson works as an applied scientist in knowledge management and is the founder and president of Positive Knowledge LLC. Jackson has 20 years of experience in aerospace and defense program management from serving in the U.S. Navy for 14 years and working with Lockheed Martin. PJ and her husband Rickey currently live in Edinburg, Va., but enjoy traveling the world together.