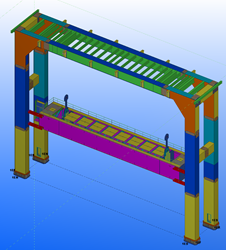 "...we are one of only a handful of steel fabrication companies in the country with the capacity for building such a structure, as well as having access to a deep-water berth for shipping the 18 pieces by barge to the project site."
Tampa, Florida (PRWEB) September 23, 2015
TTI-FSS (Tampa Tank Inc.-Florida Structural Steel) has begun work on the new draw bridge replacement for the historic Wittpenn Bridge in New Jersey. The vertical lift Wittpenn Bridge, named for Jersey City Mayor Otto Wittpenn (1908 – 1913) and opened in 1930, carries Route 7 traffic over the Hackensack River between Kearny and Jersey City. It is a major connector between Routes 139 and 1 & 9 Truck to the east, and the New Jersey Turnpike Interchange 15W and Newark/Jersey City Turnpike to the west.
"This is one of the largest vertical lift span bridges in the country," explained TTI-FSS Project Manager Casey Morey, "and we are one of only a handful of steel fabrication companies in the country with the capacity for building such a structure, as well as having access to a deep-water berth for shipping the 18 pieces by barge to the project site."
According to the New Jersey Department of Transportation web site, the replacement of the existing bridge will address such major issues as:

structural deficiencies,
updating to meet current design criteria and improving traffic operation and safety,
the need for improved traffic service for the region,
reducing vehicular and marine traffic conflicts by increasing vertical clearance over the Hackensack River in the closed position, and
high maintenance costs and traffic disruptions.
The TTI-FSS team will be detailing, fabricating, and delivering 4.26 million pounds of bridge steel to the site. The scope of work includes two bridge towers and two large counterweight boxes. Each tower stands approximately 181 feet in the air and supports a counterweight box that is 109 feet, four inches long and weighs 177 tons before being filled with concrete.
All detailing and design drawings will be produced in-house. Fabrication will be completed at each of TTI-FSS' three main Tampa, Florida, plants. All the components will be shipped in October 2016 from the firm's Port Tampa facility using the adjacent deep-water marine berth.
The existing bridge will be maintained until the new structure is in place. The superstructure of the existing bridge will be demolished once the new bridge is open to traffic.
About Tampa Tank Inc.-Florida Structural Steel (TTI-FSS)
Tampa Tank Inc. was founded in 1953 and acquired Florida Structural Steel in 1984. The company provides complete design, shop fabrication, shipment, field erection, inspection and testing of welded steel products for the petroleum, chemical, pulp and paper, mining, electric power, water and wastewater industries. The company operates across North America, Central and South America and West Africa. TTI-FSS is American Society of Mechanical Engineers (ASME) and American Institute of Steel Construction (AISC) certified. For more information, visit the web site at http://www.tti-fss.com.