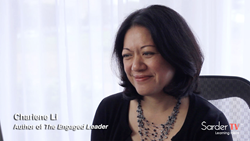 "Charlene Li has a deep understanding of how technology and social media can be utilized by organizations and their leaders to grow their businesses and improve both internal and external," said Russell Sarder.
New York, New York (PRWEB) September 23, 2015
Critically acclaimed author, founder and CEO of Altimeter Group, Charlene Li, recently met with Sarder TV correspondent Jennifer Crumpton, to talk about her career, her work as a consultant and her latest book, The Engaged Leader. In the interview for Sarder TV, the independent media learning channel, Charlene Li talks about her unique consulting perspective that combines high degree of proficiency in technology and in leadership skills. In her book, the Engaged Leader, Li provides practical tips and tools for leaders to use to improve their leadership skills, foster business growth and improve employee retention.
"Charlene Li has a deep understanding of how technology and social media can be utilized by organizations and their leaders to grow their businesses and improve both internal and external," said Russell Sarder, CEO of NetCom Learning and creator of Sarder TV.
"This video interview for Sarder TV with Charlene Li provides viewers with an overview of what needs to happen in terms of technological awareness at the executive level," said Sarder.
Charlene Li is a very busy person. In addition to running a successful consulting business, being the mother of two teenagers, she is the author of two books, the Engaged Leader and Groundswell. Groundswell, which Li co-authored with Josh Bernoff, reached number five on the New York Times Best Seller List, was awarded the Berry-AMA Best Book in Marketing in 2009 was also named as one of the Top 10 Business Books by Amazon in 2008. Charlene also serves on the board for of trustees for several organizations including the World Economic Forum's Global Agenda Council on New Models of Leadership and the Poynter Institute. She is a well-known public speaker, providing keynote addresses at such conferences as the World Economic Forum, American Society of Association Executives, World Business Forum, Web 2.0 and SXSW. Charlene's extensive background and experience as a thought leader in the area of social media, technology and leadership strategies, has earned her Fast Company's title of one of the Most Influential Women in Technology. The Sarder TV interview with Charlene Li is both inspirational and informational and full of practical advice leaders can use to improve their communication and leadership skills.
Sarder TV offers stimulating, educational and candid interviews so that new entrepreneurs and aspiring business people can learn from them. The database is part of the international Learning Movement created by Russell Sarder to help spread knowledge and inspire a passion for lifelong learning. Operating on the premise that motivated individuals can learn from the experience, the success and the mistakes of others, Sarder TV provides a unique opportunity to see and hear influential personalities talk about the subjects that matter to them. Some of the past interviewees have included Ira Neimark, former CEO of Bergdorf Goodman, Susan Davis, CEO of BRAC USA, and Dan Hoffman, President and CEO of M5
Don't miss this informational and fascinating interview with Charlene Li on Sarder TV by clicking here.
Sarder TV seeking additional leaders for interviews
Sarder TV is also seeking leaders to interview and is targeting leaders from Fortune 500 companies, and exceptional public figures like Bill Clinton, Oprah Winfrey, Jim Collins, Bill Gates, Warren Buffet and many more. According to the National Venture Capital Association, more than 30 percent to $600 million this year has been invested in Web-based education. For investors seeking an opportunity to participate in a multimillion dollar idea, Sarder TV presents an excellent investment and is actively seeking investors. Several investors have already expressed an interest in this innovative idea. Investors interested in becoming a part of Sarder TV are invited to get in touch as well, contact us at russellsarder(at)netcomlearning(dot)com.
Sarder TV is a learning channel that contains a series of exclusive educational interview videos from top leaders in their industries, as well as motivational videos encouraging our public to succeed in their personal and professional lives, and many more. Russell Sarder, CEO of Sarder TV, has interviewed a series of leaders, who have shared their experiences and how they were able to achieve their success. Some of the names that Sarder has interviewed are: Ira Neimark, former CEO of Bergdorf Goodman; Russ Edelman, co-author of Nice Guys Can Get the Corner Office, Dan Hoffman, and David Hershfield, SVP Online Technology at RedCats.
NetCom Learning is an award-winning global leader in managed learning services, training, and talent development. Since 1998, we've been in the business of helping organizations reach optimal performance results and address challenges by managing all aspects of organizational learning. We believe that an organization's ability to learn — and translate that learning into rapid action — is the ultimate competitive advantage.