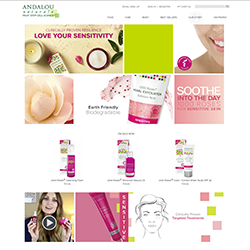 "HEI has been wonderful to work with. They have delivered a unique site without compromise; one that will usher in tremendous ecommerce growth... -Amy McKelvey, Andalou Naturals Brand & Communications Director
Ann Arbor, MI (PRWEB) September 28, 2015
Human Element, a Michigan-based ecommerce development agency, announced the launch of a new, responsive Magento store for Andalou.com today.
Human Element implemented a new responsive design for Andalou Naturals on the latest version of the Magento software. The new template scales elegantly for mobile and tablet devices, while keeping the company's unique branding front and center. With an eye toward ecommerce conversion and the user interface, the new online store experience provides a more in-depth look at this innovative line of organic, non-GMO beauty products.
"When looking for the right web team, it was important for us to work with a company we could trust, a company who could give us a customized, scalable site that meets the demands of today's mobile world while offering us the flexibility to create and recreate in numerous ways," said Andalou Naturals Brand & Communications Director Amy McKelvey.
Human Element implemented several custom ecommerce components to work within the Magento framework, including a one-page checkout, a store locator feature, and an attribute-driven product page designed to help users easily browse for beauty products that meet their needs. The new store achieves additional flexibility for users by allowing UPS SmartPost for shipping and Paypal Express payment options.
"Human Element has been wonderful to work with. Their communication is top notch, which really sets them apart from other web teams. They have delivered a unique site without compromise - one that will usher in tremendous ecommerce growth while supporting us on a global stage as we continue to expand. We couldn't be more pleased," McKelvey said.
Human Element and Andalou Naturals plan to continue their partnership post-launch, working together to design and release new features to further improve the customer experience.
"The new Andalou.com delivers an exceptional combination of responsive design and streamlined ecommerce functionality," said Human Element Managing Partner Ben Lorenz. "We are proud of this project release, and we look forward to a long-term relationship with the Andalou team."
About Human Element
Based in Ann Arbor, Michigan, Human Element works to develop web solutions for high transaction websites using the Magento and Bigcommerce Enterprise Platforms. Human Element is one of the fastest growing custom application development agencies in Michigan. They are Magento-certified Silver Solutions Partners, Bigcommerce Enterprise Premium Partners, and their work has enabled them to acquire a broad range of experience developing ecommerce extensions. Custom development work has included integrations with enterprise resource planning (ERP) systems, customer relationship management (CRM) platforms, (ESP) email service providers, payment gateways, and other data systems. Visit http://www.human-element.com or call 734.545.8017 to learn more.
About Andalou Naturals
Andalou Naturals, made thoughtfully and beautifully in Northern California, is a rapidly growing, trendsetting manufacturer of branded, clinically proven, natural personal care products formulated with Fruit Stem Cell Science®. The company was the first beauty brand to be 100 percent Non-GMO Project Verified. The complete product range includes 89 SKUs in four categories: skin care, hair care, bath and body care. The brand is sold primarily in the U.S. and Canada through natural health and beauty channels and is exported to 21 different countries worldwide. To learn more and to shop online for Andalou Naturals products, visit: http://www.andalou.com. Follow them on Facebook: http://www.facebook.com/andalounaturals