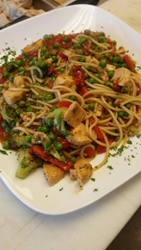 "Michelle and I wanted to create a fun, welcoming pub that served the best scratch cooked meals, not processed like chain restaurants. We want to use ingredients from local farmers."
Valley City, Ohio (PRWEB) September 23, 2015
Owners Sean and Michelle Lackey are adventurous. Sean is a Cleveland Filmmaker credited with writing and directing The Yank, starring Colm Meaney, Fred Willard, and Kevin Farley, filmed right here in Cleveland. Michelle Lackey is an accomplished dressage instructor in Hinckley, Ohio who has competed all across the country. They moved out to Valley City, Ohio over eight years ago and fell in love with the country. They also discovered a unique opportunity.
When the space formerly occupied by the Riverstone Tavern opened up, Sean and Michelle realized a dream come true and jumped at the chance to create an establishment that was fun, inviting, and served the best quality food and drinks in the area. The building, located on 6757 Center Road, has been in existence since the late 1900's and has the perfect ambiance, featuring tin ceilings, stone and wood interior. Since the building features a large patio, they saw an opportunity to showcase live music in a beautiful outdoor setting. They wanted to feature local musicians every weekend, rain or shine.
With the aid of Executive Chef, Shawn Gregg, the Lackey's created Gandalf's Pub & Restaurant. The menu consists of various traditional Irish dishes (Sean's parents are both from Ireland), such as Shepherd's Pie, Bangers & Mash, Corned Beef, and Boxtys, but it also consists of European dishes like Chicken Paprikash, Chicken Marsala, pastas and sandwiches. They also only serve Certified Angus burger meat in all their burgers. The menu is not pages long, so it gives the chef plenty of opportunity to showcase his skills with a list of daily specials.
Gandalf's Pub is a scratch kitchen: all dishes are made from scratch using fresh, local ingredients.
"I wanted to create delicious meals using authentic ingredients," says Executive Chef Shawn Gregg, " We don't use processed food. We don't own a microwave."
You can't serve great food without great drinks. Gandalf's Pub offers an extensive list of IPAs and specialty brews from across the country, as well as 8 drafts anchored by Irish beers Guinness Stout and Smithwicks, and local favorites from Great Lakes Brewery. They have an extensive wine list and serve only premium liquor....even for happy hour.
Gandalf's Pub is open 6 days a week, Tuesday through Sunday, closed Mondays, starting with lunch at 11:30 AM every day. Closing times are 9 PM Tuesdays and Sundays, 10 PM Wednesdays, 11 PM Thursday, and Midnight on Friday and Saturday.
Telephone number is 330 483-1190,
Facebook page is: https://www.facebook.com/Gandalfs-Pub-407675406060836/timeline/
Website: http://www.gandalfspub.com