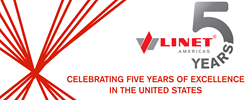 'We are happy to provide new technologies that have helped healthcare systems across the country improve their operations.' - Colin Bain, President & CEO
Charlotte, NC (PRWEB) October 07, 2015
LINET Americas is celebrating five successful years in the United States serving the hospital bed market. Its American headquarters opened in Charlotte, North Carolina, in 2010 under the leadership of Colin Bain, President and CEO. LINET Americas has since experienced exponential growth in the United States market, but what is more compelling is its potential to drive even more positive changes in healthcare.
LINET Americas is a subsidiary of LINET Group SE, a global supplier of hospital beds, support surfaces and patient room furniture for acute care, post acute care and home care environments. Offering product innovations unique to the market, LINET aims to change the healthcare industry for the better by improving nurse safety and work productivity, as well as helping improve patient outcomes.
Colin Bain, President and CEO, states, "When we entered the United States five years ago, the market was in a very challenging position, given healthcare reform and a severe economic recession. As a result, hospital systems were in serious need of better solutions that could enable a safer, more effective environment for patient care at a better value. We are happy to provide new technologies that have helped healthcare systems across the country improve their operations."
Offering innovative technology with economical benefit in the ever-changing healthcare industry, LINET is a welcomed player in the United States market. Within a five year period, LINET Americas has quickly gained market share and has secured multiple sole-source agreements with major healthcare systems nationwide.
As a company, LINET Americas has also been acknowledged throughout the medical field and the Charlotte area for the philanthropic contribution through the program "What Matters Most" and has also received numerous technological advancement awards by major GPOs for its leadership in product technology.
The LINET Americas story is indeed a success story worth celebrating. As the company continues to expand, the future appears promising. LINET Americas looks forward to continued success and positively impacting healthcare for many more years to come.
About LINET
Founded in 1990, LINET is an international leader in healthcare technology with patient beds installed in over 100 countries. LINET offers a new and unique approach to the hospital bed market. LINET manufacturers innovative beds for the ICU and Medical-Surgical environments that promote patient and nurse safety, facilitate early mobilization, assist in better adherence to turning schedules, improve pain management and help reduce infection rates. All LINET products also come with an unprecedented 5 year warranty. The company's U.S. headquarters is based in Charlotte, NC. Please visit http://www.linetamericas.com for more information.