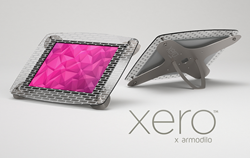 The secure open mount of the Xero is proving ideal for flexible point-of-sale systems, kiosks with peripheral access, as well as custom branded experiential displays
Waterloo, ON (PRWEB) September 29, 2015
Award-winning iPad kiosk and tablet stand manufacturer Armodilo Display Solutions is excited to announce their newly released "Xero" series of tablet enclosures has exceeded initial launch expectations and is quickly becoming one of their most popular product lines.
The Xero is a highly customizable open desktop stand and iPad / tablet mounting system for multipurpose accessible interactive touch-points. Made of high quality components, Xero is remarkable for its fully-customizable brandability, including choice of designer motifs, fully-printed inserts and soon to be released wood finishes.
"The secure open mount of the Xero is proving ideal for flexible point-of-sale systems, kiosks with peripheral access, as well as custom branded experiential displays. The Xero tablet mount is fully compatible with a wide variety of tablets. Better yet, Xero tablet mounts are fully compatible with Armodilo's Original Line of kiosks, tablet stands, and wall mounts, easily comparable with the Original Armodilo enclosure with a secure, open-access mount," says Iles Guran, Founder of Armodilo Display Solutions.
Armodilo Display Solutions is a multiple award-winning tablet display manufacturer located in Ontario, Canada. With a variety of tablet display stands and accessories for trade show, event, retail and corporate markets, Armodilo sets itself apart by creating highly refined products for discerning brands around the world.