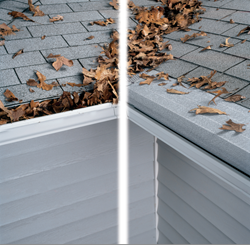 With Gutter Helmet® installed, you can forget about climbing ladders and risking serious injury. And you won't have to pay anyone to clean your gutters ever again!" Danielle Scholmer, National Marketing Manager at Gutter Helmet.
Jacksonville, FL (PRWEB) September 23, 2015
Gutter Helmet®, America's #1 choice for gutter protection, has released a list of the exclusive U.S. markets now open for dealerships. Some of the available markets are Chicago, IL; Dallas/Fort Worth, TX; Tampa/St. Petersburg, FL; Savannah, GA; Charleston, SC; Virginia Beach/Norfolk, VA; Panama City, FL; Tallahassee, FL; Central Altoona/Johnston, PA; and Wilkes Barre/Scranton, PA.
Gutter Helmet® is distributed and installed by an elite network of dealerships located throughout North America. Gutter Helmet® dealers share a desire to help homeowners, grow their business and enjoy significant returns. The company is widely regarded in the industry as the trusted source for top-quality gutter guard products backed by the strongest warranty in the industry.
Gutter Helmet® offers dealers all the support and proven best practices of a franchise without the headaches that often accompany the franchise business model. Dealers enjoy the following benefits:

Free leads. Gutter Helmet® knows it can be difficult to generate a steady flow of qualified leads into a dealership. Gutter Helmet's national marketing creative is constantly at work, providing qualified customers actively searching for a complete gutter solution as free leads.
Exclusive territories. Gutter Helmet® ensures there will be no encroachment on a dealer's customer base or geographical territory by providing the rights to an exclusive territory. Superior sales and marketing training and support, crafted by renowned industry professionals, allow our dealers to reign supreme in a competitive market.
No dealership or franchise fees. Gutter Helmet® dealers are associated with a world-renowned brand backed by Gibraltar Industries, a publicly traded company. Dealers receive free sales and installation training to become a certified dealer, and pay no set-up, franchise or royalty fees for ongoing association with the company.
Gutter Helmet® is dedicated to the success of every dealer. If you are a home improvement contractor who would like more information about becoming a Gutter Helmet® dealer, visit http://www.GutterDealer.com or call (855) 768-8699. Interested parties may also visit with Gutter Helmet® representatives in person at the Remodeling Show, happening September 28-October 2, 2015, in Chicago.
About Gutter Helmet®
Nearly 35 years ago, Gutter Helmet® was the first gutter guard system to be offered to American homeowners, and quickly became America's #1 choice for gutter protection. Its patented design stops gutter clogs that can be the cause of water damage to the structure of a roof and home, forcing homeowners to have to invest in costly repairs.
The solid-cover Gutter Helmet® system passively draws water into rain gutters while forcing leaves, twigs and other debris to fall harmlessly to the ground. This effect is achieved through the combined action of Gutter Helmet's ribbed surface and patented nose-forward design. The textured finish increases surface tension and allows rainwater to cling to the cover as it curves down into the gutter. Debris simply falls right off the edge.
For more information about Gutter Helmet® gutter guards, visit http://www.GutterHelmet.com, call (800) 824-3772, or look for our ad in the September 2015 issue of Gutter Opportunities magazine.