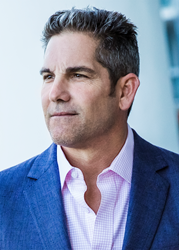 Get massive, or go passive.
Miami Beach, FL (PRWEB) September 21, 2015
Celebrity Businessman Grant Cardone Keynotes 1st Annual Periscope Summit
New York Times bestselling author, TV personality, and one of the top social media people in the world, Grant Cardone kicks off First Annual Periscope Summit. Grant Cardone's social media presence totals a mind-boggling 200,000,000 posts, videos and streams annually. Impressive numbers for anyone, but especially when you consider he is educating people on how to be successful in business.
In addition to his social media activities, Cardone runs four privately held multi-million dollar companies that are just shy of $100m in revenues per year. Cardone flies into Teterboro at 7 am Tuesday from his world headquarters in Miami Beach. In one day Cardone will be interviewed by NBC's Al Roker discussing the impact of mobile live streaming apps, he then heads to HuffPost for another interview, followed by a hook up with social media superstar colleague Gary Vaynerchuk at VaynerMedia, then in the same day jams in Bank of America to discuss getting Cardone Acquisitions Real Estate into one of the top 50 apartment owners in the US, and finally meets with superstar talent maker Charles Koppelman.
Grant Cardone, 57 years of age, was one of the first to maximize live broadcasting apps such as Periscope, Meerkat, Blab.im and when Facebook launched its Mentions streams to celebrities and athletes they added Grant Cardone to the list. What is unusual about Cardone's massive presence on social platforms is he doesn't fit the demographic profile consistent with those using these new technologies and he isn't just using them he is dominating them.
To get an inside look of his stream at the Periscope Summit subscribe to his business network GrantCardoneTV.com to received an exclusive link when the stream goes live.
About Grant Cardone:
Grant Cardone is a New York Times bestselling author of four books since the 2008 economic collapse, international speaker, business innovator and leading social media personality in the world today.
Cardone owns multiple companies; Cardone Training Technologies, Inc., Cardone Group (a software and technology business), GrantCardoneTV, and Cardone Acquisitions, a national real estate company with over $500m in real estate transactions.
You can follow Cardone on Twitter @GrantCardone.
For further press information on Grant Cardone please contact Vaughn Reynolds:
Vaughn Reynolds – Public Relations
Vaughn(at)GrantCardone(dot)com
Cardone Training Technologies, Inc
Phone: 310.777.0255
Fax: 310.777.0256
Web: http://www.grantcardone.com