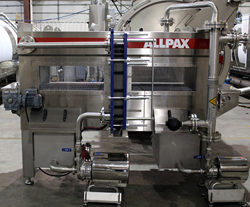 COVINGTON, LA (PRWEB) September 21, 2015
Allpax, powered by Pro Mach, introduces its new modular pasteurization tunnel at Pack Expo Las Vegas, September 28-30. By combining the Allpax tunnel with products from other Pro Mach businesses to create an integrated system that takes products from filling through packaging, companies eliminate engineering costs and startup, training, and support issues that may negatively impact multiple vendor solutions. Allpax Pack Expo Booth C-2818
"Pro Mach businesses provide equipment for every aspect of the process – upstream and downstream of the pasteurization tunnel," said Greg Jacob, Vice President and General Manager, Allpax. "Products can be filled into rigid packaging by Federal fillers or into flexible packaging by Toyo Jidoki premade pouch fillers, or FLtecnics horizontal form fill seal pouch fillers. Packages can be moved to other sections of the line by Shuttleworth, Benchmark, or KLEENLine conveyors. At the end of the line customers may select Wexxar/BEL case formers, Brenton case packers, Tekkra shrink wrappers, Currie by Brenton palletizing systems, and/or Orion stretch wrappers. If customers are interested in pasteurization, Allpax can provide one point of contact for outstanding integration and a multiple machine solution."
Allpax pasteurization tunnels are configured to each customer's unique environment. For example, post pasteurization packages are automatically discharged in the format required for case packing or shrink wrapping. The operator interface and controls package have the same look and feel as Allpax's sterilization offering, enabling customers who are adding pasteurization to their packaging operations to reap the benefits of standardization.
"Allpax control systems and operator interface systems are some of the most advanced in the industry," said Jacob. "Sterilization regulations are met through the onboard ability to document the process, detect any variation that may occur, and output appropriate reports. We believe the turnkey value proposition of a state-of-the-art pasteurization tunnel and one point of contact from filling to stretch wrapped pallet loads is potentially unequaled in the industry. We encourage those interested in pasteurization to stop by our Pack Expo booth or give us a call."
For more information on Allpax's extensive lines of non-agitation and agitation retorts, control systems, tracking systems for cans, trays, and pouches, replacement parts, and programs for retort room revitalization and automation, call 1-888-893-9277 and visit http://www.Allpax.com or go to the Allpax booth (C-2818) at Pack Expo. To learn more about other Pro Mach businesses offerings, visit the Pro Mach booth (C-3423) at Pack Expo.
About Allpax Products
Allpax Products, a market leader in retort technology and retort room automation, designs, manufactures, and delivers turnkey sterilization solutions for the food, beverage, pet food, and pharmaceutical industries. The company is recognized for helping customers become more successful by decreasing time to market with laboratory retort equipment, lowering overall labor costs through automation, and increasing the overall throughput of the sterilization process. http://www.Allpax.com
About Pro Mach
Pro Mach is a leading provider of integrated packaging and processing products and solutions for food, beverage, consumer goods, pharmaceutical, and other diverse companies. Through its brands, Pro Mach provides product packaging and processing equipment, PMMI certified training, installation, parts, and service in Bottling & Capping, Primary Packaging, Flexible Packaging, Material Handling, Labeling & Coding, and End of Line.
Pro Mach has a diverse customer base, from Fortune 500 companies to smaller, privately-held businesses worldwide, which depend on reliable, flexible, technologically advanced equipment and integrated solutions. Pro Mach is headquartered near Cincinnati, Ohio, with manufacturing facilities and offices throughout the United States, Canada, Mexico, and Europe. For more information about Pro Mach, visit http://www.ProMachInc.com.