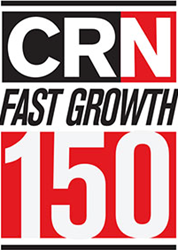 "The growth IDS has experienced over the past 2 years can be largely attributed to our dedication to finding and testing the most impactful and disruptive technologies in the industry and bringing them to our customers." - IDS CTO, Justin Mescher
Chicago, IL (PRWEB) September 22, 2015
IDS, a leading data center technology integrator and cloud services provider, announced that it has been named to The Channel Company's 2015 CRN® Fast Growth 150 list. Based on gross revenue over the two-year period from 2012 to 2014, The Fast Growth 150 list ranks solution providers based in North America with significant economic growth. In a turbulent IT economy, these companies have shown exceptional prowess in growing their operations and constantly providing essential services to their customers.
A strategic expansion of an already successful solutions portfolio has propelled IDS into a continuous state of high-speed growth over the past few years. Dedication focused on transforming the customer experience has resulted in an incredibly positive response from new and existing clients, and allowed IDS to consistently exceed expectations.
IDS CTO, Justin Mescher, says "It is an honor to be ranked by CRN among some of the most elite solution providers in the industry. The growth IDS has experienced over the past 2 years can be largely attributed to our dedication to finding and testing the most impactful and disruptive technologies in the industry and bringing them to our customers. Concepts such as flash storage, software-defined data center, and the cloud-enabled data center have helped our customers realize benefits that would otherwise be unachievable."
The company has grown their reputation to be widely recognized as a trusted cloud provider with a unique perspective coming from the experience of building and managing their own IDS Cloud. The development of their cloud solution offerings, including cloud enablement services, cloud migration services, cloud evaluations and their own IDS Cloud offerings has greatly contributed to the tremendous level of growth and success the company has experienced in recent years. This year alone IDS has been recognized as part of the CRN Tech Elite 250, CRN Solution Provider 500, the Inc. 5000 List, and as the only company who has received the EMC Partner Services Quality Award nine years in a row.
Matt Massick, IDS CEO, comments "What our team has been able to accomplish over the last few years in terms of growth, specifically surrounding our cloud practice, is nothing short of incredible. This is the reason we continue to attract the best talent in the industry, and our team is the reason we are able to bring world-class solutions to our customers." He added, "We look forward to continuing to meet the demands of our current and future clients."
"Cloud computing, mobile and big data technologies are making the industry both more exciting and more challenging than it's ever been," says Robert Faletra, CEO of The Channel Company. "Solution providers recognized in CRN's Fast Growth 150 list are rising to meet the challenge and are thriving as a result. We are pleased to recognize these firms as leaders in today's IT channel."
The Fast Growth 150 list is highlighted in the October issue of CRN and can be viewed online at http://crn.com/fastgrowth.
Tweet This:
@TheChannelCo names @IDSforward to the @CRN Fast Growth 150 list #CRNFG150 crn.com/fastgrowth
About IDS
IDS is a data center technology integrator and cloud services provider backed by an award-winning IT consulting practice. IDS works with a select list of industry leading technology partners to deliver custom IT solutions. Primary areas of focus are storage, data protection, disaster recovery, data analytics, virtualization, mobility, networking, servers, security, managed services, and cloud. Headquartered in Chicago, Illinois, IDS has experienced incredible growth since being founded in 2002. IDS has established a reputation of moving IT forward through solutions that provide improved efficiency, flexibility, performance and a competitive advantage. Learn more at http://www.idsforward.com.
About The Channel Company
The Channel Company, with established brands including CRN®, XChange® Events and IPED®, is the channel community's trusted authority for growth and innovation. For more than three decades, we have leveraged our proven and leading-edge platforms to deliver prescriptive sales and marketing solutions for the technology channel. The Channel Company provides Communication, Recruitment, Engagement, Enablement, Demand Generation and Intelligence services to drive technology partnerships. Learn more at http://www.thechannelcompany.com.
The Channel Company, CRN®, XChange® Events and IPED® are registered trademarks of The Channel Company, LLC. All rights reserved. All other brand names, product names, or service names that appear herein are trademarks or service marks of their respective owners.
The Channel Company Contact:
Melissa Weil
The Channel Company
508.416.1112
Mweil(at)thechannelcompany(dot)com