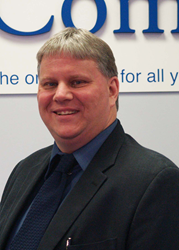 We are always eager to build on our knowledge of the technological requirements of law enforcement agencies—what they need, but can't find in the market.
CHICAGO (PRWEB) September 22, 2015
Ace Technology Partners, one of the most respected forensic workstation providers in the U.S., just announced that they will be showcasing their line of forensic computer workstations at the upcoming International Association of Chiefs of Police (IACP) Annual Conference at Chicago's McCormick Place West Oct. 22-27.
Among the company's recent forensic workstation clients is the New York State Police Crime Laboratory. The laboratory chose the company based on a number of factors including forensic technology experience, reputation, quality products, and price. All Ace Technology Partners' forensic workstations are capable of performing the full array of critical digital forensic tasks, including:

Detection and identification of deleted files
Rapid evidence retrieval and authentication (including images and files) from hard drives
Identification of file access/modification dates and times; and creation of file system activity timelines
Write-blocking file integrity protection
Linking notes, images, and other evidence directly to a case file
Support for developer tools and universal hardware interfaces
Support for hardware-based, remote, and network-drive duplication
Support for duplication and analysis of an array of forensics-related file types
Ace Technology Partners' CEO John Samborski said, "We are always eager to build on our knowledge of the technological requirements of law enforcement agencies—what they need, but can't find in the market. As a custom technology builder, we are in an excellent position to create forensic products from a unique set of specifications."
Ace Technology Partners works with leading forensic hardware and software vendors to ensure that the chain of evidence is preserved, protected and accessible only to the right people. Workstations specs comply with and in most cases exceed the specifications of the software.
The IACP Annual Conference and Exposition is the largest and most prestigious law enforcement event of the year. In addition to some of the most elite law enforcement technology exhibitors, more than 14,000 public safety professionals are expected to attend. Ace Technology Partners will be showcasing forensic-related technology in booth 2501—near the entrance.
Leading technology solution provider; Ace Technology Partners, holds NETCENTS 2, SEWP V, and NASPO ValuePoint (Formerly WSCA-NASPO) contracts. Ace Technology Partners is a Woman-Owned Small Business custom technology systems manufacturer and reseller for the public sector as well as the commercial sector. Its channel partners include Intel, Supermicro, NVIDIA, Mellanox and Samsung among others. It has been an industry leader since 1983. In addition to some of the finest academic institutions in the U.S., long-term clients include the U.S. Department of Energy and the U.S. Department of Defense. The company's principal, recognized industry expert John Samborski, is an alumnus of Intel's prestigious board of advisors. In addition to its Greater Chicago headquarters, Ace Technology Partners has locations in New Jersey, Pennsylvania, Virginia, and Arizona. To contact Ace Technology Partners, call 1-877-223-2667 or 1-847-952-6900 or visit http://www.acetechpartners.com.
###