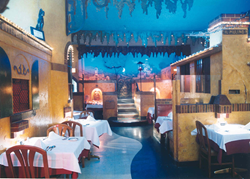 "the Village is special for just how little it has changed over the 88 years" Gina Capitanini, 3rd Generation Owner.
Chicago, Illinos (PRWEB) September 21, 2015
The city of Chicago has a rich and storied history. Though much has changed throughout the years, one downtown restaurant remains a living monument to years gone by. Imagine dining at the same table as Al Capone, or where Frank Sinatra's wedding reception was celebrated or comedy legend Rodney Dangerfield toasted his wedding anniversary -- all were held at 71 W Monroe home to the Italian Village. Feast upon the same entrees that Barbara Streisand enjoyed before she was a star. Celebrate at the same place Florence Henderson came to dine 62 days in a row, where Kim Basinger ordered just the bread for take out, and where George Clooney and Julianna Margolis could eat un-noticed for a time! This is the kind of special history that very few places in the world can claim to have. These are just a few of the great stories that come from being in the business at the heart of Chicago's loop for 88 years like the Italian Village has. This legendary Chicago restaurant was opened in September 1927 by Italian immigrants Alfredo Capitanini and his wife Ada. This September marks 88 years of the legendary Italian Village.
"What makes the Italian Village so special is just how little it has changed over the years" says Gina Capitanini, 3rd generation owner operator. Walk in to the main dining area and one can see the original paintings created by the artists Daniel Burnham enlisted to work on the World's Fair at the turn of the 20th century. Much of the infrastructure, light fixtures and even the booths still remain true to their original form. Sure they have been maintained and restored over the years, but authentic history and charm shine through in almost every nook of the restaurant.
More milestones at the Italian Village include:

First to serve Chicken Vesuvio, no peas!
Served over 10 million meals
Employed over 44,875 Chicagoans
Donated to over 16,823 charities
Served 14 Chicago Mayors
In 1927, Italian Village's Spaghetti and Meatballs cost 40 cents and a Martini 43 cents
Italian Village has employees who have been with them for over 50 years!
Italian Village has the largest on-site wine cellar in the Midwest, holding over 45,000 bottles and 1,200 different selections.
What helped the Village stay true to its roots all these years is that the business has always stayed in the family. Currently run by 3rd generation family member, Gina Capitanini. Alfredo Capitanini oversees the financials and Pamella Capitanini manages marketing.
With pride in their food and nearly a century of knowledge, it is little wonder why the Italian Village has received numerous awards and recognitions for having some of the finest Italian cuisine in the city. You can even purchase the authentic sauces from the Italian Village at grocers across Chicago, including Whole Foods.
"A toast to 88 years...it is almost to hard to believe", said Gina Capitanini (3rd generation owner operator) "This restaurant has been a part of my entire life and it is hard to describe in words just how much this place means to me and my family. If these walls could talk, they would tell you stories that would take your breath away. So much history has passed through these doors and while sometimes it seems like the entire city has changed around us, we've always been here and that's something I take pride in."
To Celebrate 88 years in Chicago, starting on September 21s,t the Italian Village will be offering a different one of it's original 3 course menu items of "Alfredo's Favorites" each day of the week for lunch for $12.88! Items to include:
Monday: Alfredo's Special. 1/2 spaghetti and 1/2 meat ravioli with meat or mushroom sauce
Tuesday: Chicken Brest Salsa Piccante: grilled chicken breast in a zesty sauce of pepperocinis,capers, roasted red peppers and green onions served with mostaccioli
Wednesday: Spaghetti Carbonara, cream sauce with bacon, egg and parmesan cheese
Thursday: Classic Lasagne, home specialty of pasta layers, meat sauce, cream sauce and parmesan.
Friday: Spaghetti Marinara, red sauce of plum tomatoes, olive oil, parsley and garlic
All of the "Alfredo's Specials" include a choice of soup or salad, entree, and Spumoni or Lemon Ice. Service is between 11 a.m. - 2 PM, starting September 21 - 25.
For additional information please contact Pamella Capitanini, pamellacapitanini(at)yahoo.com or 312.560.7676
About the Italian Village: Alfredo Capitainini, the Italian immigrant who never worked in any restaurant before coming to the United States, opened the Italian Village in 1927. His philosophy was simple, make good food, serve it in ample portions, and offer it with warm Italian courtesy. A menu once read: "Spaghetti and Meatballs..40 cents" The idea of combining authentic dishes with great value marked the beginning of the Capitanini Family's tradition of culinary excellence that continues to this day, and makes the Italian Village the oldest (and most unique) Italian eatery in Chicago.