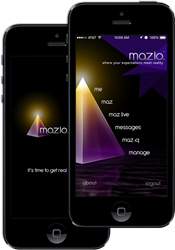 Mazlo provides an unparalleled dating experience with a scoring system that rewards honest people.
(PRWEB) September 23, 2015
Inspired by Abraham Maslow's Hierarchy of Needs, mazlo will revolutionize the dating experience by applying the concept of Darwinism to score users based on direct feedback from their dates. In order to help users reach self-actualization, the app will facilitate high-quality dating experiences through a scoring process that minimizes spam, the need for ads, selling premium services, and selling user data to generate revenue. Instead, mazlo employs a proprietary algorithm that offers optional profile refreshes to users with low scores, while requiring them to improve their profiles after payment.
Mazlo provides an unparalleled dating experience with a scoring system that rewards honest people. High quality users will likely have higher scores from representing themselves truthfully, thereby increasing their chances to meet other high quality users. Users with low scores may find it increasingly difficult to meet people and may be able to purchase an optional profile refresh to reset their scores, improve their profile, and start over. The algorithm within mazlo is designed to determine a user's "point of frustration" when their scores fall too low and become unappealing to others, at which point a profile refresh is offered and the user can start over by fulfilling additional profile requirements.
"The expectations of every user in the online dating space will be redefined by mazlo," says Co-Founder David J. Lubert. "Ultimately, we believe that using this method of quantifying feedback and organizing the anonymous results for the user in an orderly and meaningful manner will result in less bad dates. By offering users the ability to provide feedback after meeting, mazlo will facilitate a sense of empowerment that is not currently available. Everyone should have the opportunity to enjoy a satisfying dating experience without having to pay for monthly access or premium services, deal with spam, or waste time on disingenuous people. Mazlo addresses each of these inconveniences by employing a logical approach that is transparent to the user."
Mazlo also introduces a dual connection dating experience with two ways to meet new people within one app. Users can maz through profiles to determine if they are interested; alternatively, users can use maz live to anonymously find other active maz live users within 100 feet of them. Not only does maz live provide users with the ability to find others near them, but it also gives users who do meet a way to connect and message anonymously without having to exchange phone numbers.
"Maz live transforms the scope of online dating and will ultimately change how people communicate in social situations. With maz live, online dating becomes a social experience and can be done anywhere," says Co-Founder Jessica Birks. "Why stay in on a Friday night looking through profiles, when a user can be anywhere and meet new people without the risk of being rejected or missing an opportunity to meet 'the one'? Mazlo exponentially increases the opportunities to find what you are looking for."
Additional features include:

mazlo is – and will always be – free with all available functionality;
mazlo will never have ads or sell data;
mazlo's design is centered around the safety and security of all users;
users have the ability to leave a 20 second voice recording to further authenticate themselves;
users can freeze their profiles to protect their scores when they are not actively dating
users have the ability to view the last 3 profiles they declined with no charges or limitations
Mazlo launched in August and is available for download in the iTunes App Store and Google Play.
Website: http://www.mazlodating.com
Facebook: http://www.facebook.com/mazlodating
Twitter: @mazlodating
About the Creator
Mazlo was created by EndGame Design Laboratories, LLC. EndGame aims to provide an efficient and worthwhile experience for every user, every time. Through the use of proprietary algorithms within mobile applications, the company designs app solutions that focus on the elimination of spam and inconvenient user experiences such as ads, buy ups, or selling data. EndGame's mission is simple: we strive for precision and efficiency in everything we do in order to perfect each user's experience – while protecting the user at all times. This belief is at the core of everything we create. Contact endgamelabs(at)gmail(dot)com for more information.
About the Developer
Zco Corporation is a tried-and-true software development company that has been living and breathing technology for over 25 years.  A proven and reliable vendor choice, Zco is passionate in its mission to create attractive, resilient products for its clients. Its powerhouse team, one of the largest in the world, was handpicked for specialties in mobile app development, enterprise software, and animation services.