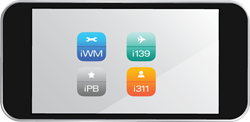 We are pleased to offer a spectrum of mobility applications built on Mobile Informer.
Folsom, CA (PRWEB) September 22, 2015
Interloc Solutions, a Premier IBM Business Partner and Gold Accredited Maximo consulting services and mobile solutions company, is pleased to announce new out-of-the-box, turn-key mobile apps for the Mobile Informer platform.
The first of these newly released apps include:
Informer311: A turn-key Self Service App, perfect for airports, facilities, universities, local government or any public or private enterprise that seeks to empower their customers or constituents to easily issue, track, and monitor work requests
InformerWM: A turn-key, Work Management App, ideal for any maintenance organizations that want to get their maintenance workers up and running quickly – spending more time in the field and less in the office.
Informer139: A turn-key mobile application that is integrated with the Interloc139 Airport Solution. Interloc139 Airport Solution is the only end-to-end IBM Maximo® and mobility solution that makes CFR Part 139 inspections simple. It was designed from the ground up to specifically address the challenge of daily 139 Inspections.
Interloc will continue to offer our flagship purpose-built apps for the Mobile Informer platform (InformerPB) for those organizations that require a mobile app specific to a Maximo Industry Solution, Maximo add-on, Maximo customization or Maximo modifications.
"We are pleased to offer a spectrum of mobility applications built on Mobile Informer," said Mike Watson, Interloc's President & CEO. ""We will continue to expand our offerings of turn-key mobile apps and laser-focused industry apps to ensure that we meet the needs of all maintenance organizations."
About Mobile Informer
The Interloc Mobile Informer platform is the only native to Maximo mobile platform that is installed within Maximo as a Maximo application. Installed within minutes, the Mobile Informer platform requires no middleware and uses IBM best practices of integrating with the MIF. The flexibility of the platform affords simple, native mobile apps that give organizations 100% user adoption. IBM validated as Ready for Cloud & Smarter Infrastructure, the Mobile Informer platform has won a number of industry and IBM awards.
About Interloc
Interloc is an IBM Premier and Gold-Accredited Business Partner that provides innovative consulting services and mobile solutions to make your business successful -- from mobility to wearables and drones to IoT devices. 100% dedicated to helping you realize the greatest potential from your Maximo investment, Interloc harnesses Maximo to exceed your business needs.